TOURISM: CONVENTION HAS $40M IMPACT ON AREA
Nothing Comical About Efforts to Keep Comic-Con In San Diego
Monday, March 22, 2010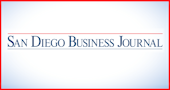 San Diego — Local convention center and hospitality officials say they've taken actions that should help keep the popular Comic-Con International event in San Diego, along with its estimated $40 million in annual economic impact, for 2013 and beyond.
The ultimate decision, however, rests with Comic-Con organizers, who are considering written proposals submitted by authorities in San Diego, Anaheim and Los Angeles.
Comic-Con has been held locally since its first gathering 40 years ago, and it is booked at the San Diego Convention Center through 2012. Comic-Con spokesman David Glanzer says organizers are expected to decide within the next month on its site for 2013 and ensuing years.
Glanzer says Comic-Con International, the locally based nonprofit organization that produces the event, has discussed with all three cities several concerns raised by convention-goers and planners in the past few years, including hotel room pricing and availability, exhibit and meeting space restrictions, and parking issues.
"Each one (of the three proposals) addresses these issues in different ways," Glanzer said. "The decision we make is going to be based on what's best for attendees."
Started in 1970 by a small group of local comic book fans, the four-day Comic-Con has grown to include a wide array of pop culture genres and entertainment media, drawing more than 125,000 to the convention center last year. This year's event is scheduled for July 22-25.
Switching locales would be a tough call for organizers, who also oversee two annual San Francisco-based conventions, WonderCon and Alternative Press Expo, from offices in San Diego. "This is the only home we've ever known," Glanzer said.
Steven Johnson, spokesman for the San Diego Convention Center Corp., says local convention, hospitality and tourism leaders began mobilizing last year to address issues raised by Comic-Con planners, forming a special task force.
More Hotel Rooms, Exhibit Space
Johnson says San Diego's written proposal being reviewed by convention organizers includes several provisions worked out between the convention center and area hotels. They call for available hotel rooms countywide during the four-day convention to double, from 7,000 to 14,000.
The three major hotels directly adjacent to the convention center — Hilton San Diego Bay Front Hotel, Marriott Hotel and Marina, and the Manchester Grand Hyatt — have worked out arrangements that will provide Comic-Con with an additional 300,000 square feet of exhibit space. Those hotels have also been working to reduce individual room rates, though exact numbers are not being disclosed while the three cities' competitive proposals are under review.
"We're moving in the right direction," Johnson said. "I think everyone here gets the message that this is an important event for all of San Diego County, not just the city."
Johnson says Comic-Con has a profile akin to the Super Bowl in terms of media exposure for San Diego County. The event attracts 2,000 credentialed media correspondents from more than 70 countries, and annually accounts for the four most-booked days for the region's hotels, taking up a large chunk of the 52,000 available hotel rooms.
Various estimates by government and business leaders have put the annual economic impact of Comic-Con on the county at between $40 million and $60 million.
Other Southern California communities want a piece of that action. Carol Martinez, spokeswoman for the Los Angeles Convention and Visitors Bureau, which has submitted a proposal to Comic-Con, says that city has ample hotels, public transportation, parking and night life accessible to convention-goers.
It also has a direct connection to Hollywood that would make it easier for celebrities to put in an appearance.
Expansion Plans
The effort to retain Comic-Con comes as the San Diego Convention Center is putting together a longer-term expansion to keep the city competitive with other communities by adding exhibit space.
In April, San Diego's Board of Port Commissioners is expected to discuss plans by the nonprofit Convention Center Corp., which manages the center, to purchase a lease on a 7-acre site behind the existing center. The Convention Center Corp. agreed in November to spend $13.5 million on the lease, currently held by Fifth Avenue Landing LLC. The lease sale requires port approval since it involves waterfront property.
Johnson says an expansion will allow the center to hold more concurrent events, and have less downtime while event settings are being taken down or built up. That in turn should also help spread visitor activity evenly throughout the year for local businesses.
Joseph Terzi, president and CEO of the San Diego Convention and Visitors Bureau, says he is confident that local authorities have taken proper steps to make their case for Comic-Con to stay put.
Those actions were especially necessary at a time when the tourism industry is still reeling and competition among convention destinations remains intense. "A lot of cities everywhere would like to have what this convention brings us," Terzi said.