TECHNOLOGY: HYBRID COURSES SAVE STUDENTS TIME AND MONEY WHILE MAXIMIZING CLASS SPACE
Graduate Schools Ease Their Way Into Online Educational Realm
Monday, March 22, 2010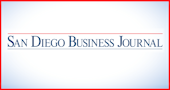 San Diego — Online learning is popular — and becoming more so — with San Diegans pursuing professional training, certificate courses and other continuing education options. Graduate degree programs at San Diego's public universities are making the transition in a slower fashion.
According to the U.S. Bureau of Labor Statistics, adult education and health care were the only two industries experiencing job growth in 2009. Adult education enrollments are increasing as job seekers return to school for skills upgrades in their existing profession or to qualify for alternative careers.
UC San Diego Extended Studies and Public Programs saw a 10 percent boost in its overall enrollments for fiscal year 2009 compared with the previous year, and online study contributed significantly to the boost. This year's online enrollments are 21,000 compared with 15,000 last year.
"About 85 percent of people who seek online certificates with us already have degrees," said Henry DeVries, assistant dean for external affairs at UCSD Extended Studies and Public Programs. The division has 100 certificate programs, and among them 18 are available totally online.
Some of the most popular of these programs are accounting, teaching adult learners, copy editing and teaching online.
"You never have to set foot in a classroom," said DeVries.
Mix of Teaching Styles
Extended Studies offers online, hybrid and traditional courses. DeVries teaches a hybrid public relations course, consisting of seven weeks in a classroom and two weeks of online assignments. Even traditional courses provide Web-based resources for students to tap.
For some adult learners, "hybrid courses offer the best of both worlds," he said. "The trend we're seeing is that students want the relationship with the instructor, but don't want to spend all those nights on the freeway getting to campus."

Hybrid classes that reduce physical class time by as much as 50 percent "help the environment, help our students' pocketbook and increase our capacity to offer more courses," said DeVries. "We can get two courses into the same classroom."
At Palomar College, the Venture program offers a wide range of not-for-credit, fee-based programs to develop professional skills, enhance employment opportunities and provide lifelong learning opportunities. Outside vendors ed2go and Gatlin Education Services provide the online content for most of the courses.
ed2go typically offers six-week training classes in basic accounting, Web page design and other skills, while Gatlin has more advanced career training programs such as pharmacy technician, video game design and networking certification. Students receive a certificate from Palomar for completing a Gatlin certificate course, which might require up to 300 hours of study.
ed2go classes, which start at $99, are "really popular," said Chris Amely, a work force and community development assistant at Palomar, and thousands of courses are available. Venture students essentially enroll in virtual classrooms with students from all over, which serves the Palomar community by broadening the available options.
"There's no way we could possibly offer such volume if we did it on our own," said Amely.
Graduate Degree Courses
"A lot of faculty still roll their eyes when people propose online courses," said Jim Julius, San Diego State University's associate director of instructional technology services. "Some departments are very receptive to it, but others are still entrenched in the idea that online can't be as good as or better than traditional classroom learning."
On the other hand, economics — and fear of the competition — is driving some of the current interest in online learning among administrators and faculty.
"People worry that they will be aced out by the Phoenixes," said Julius.
The University of Phoenix, an accredited, for-profit institution with more than 200 locations nationwide, offers flexible education options to working adults, including online master's and doctoral degrees.
SDSU currently has three online graduate degree programs. The Department of Educational Technology has a Master of Arts degree administered through the university's College of Extended Studies. CES and the university's Center for Bio/Pharmaceutical and Biodevice Development offer a Master of Science in regulatory affairs related to development and commercialization of drugs and medical device products.
The third program is the California State University Professional Science Initiative consisting of online courses, certificate programs and professional master's programs for veterans and active duty military, who can access the classes from anywhere in the world. These programs enable participants to prepare for careers in high-growth science, technology, engineering and mathematics fields. All courses qualify as CSU graduate courses, are transferable to all 23 CSU campuses, and typically transfer to other national universities.
Highly Specialized Distance-Learning
At UCSD, where an academic task force on distance and online instruction is currently studying options for graduate and undergraduate degree programs, the university already delivers highly specialized, graduate-degree coursework to Los Alamos National Laboratory and Lawrence Livermore National Laboratory in a distance-learning format.
Scripps Institution of Oceanography Professor William S. Hodgkiss, who chairs the task force, also teaches a combined undergraduate-graduate signal processing class in a synchronous learning format.
The video teleconferencing system enables Hodgkiss and the students to see one another and ask questions in real time, although they are physically in different places. For this type of remote learning, students assemble in a specific conference room at a given time. Structural engineering courses are also taught in this manner.
"In some classes, particularly seminar classes, there's no substitute for being physically all together," said Hodgkiss.
In the signal processing class he's teaching remotely to 60 students, however, he doesn't think there's any loss of content. Students submit homework assignments via e-mail for the project-oriented class. If they miss the class or wish to review the material, they can review the video, which is captured as a Flash file and posted on the class Web site.
Typically between two and 10 students at the Los Alamos location sign up for the course.
"You couldn't argue financially that you could teach this specialized class to two or three students in the traditional way," said Hodgkiss, who expects to see more of these teleconferencing solutions. "It applies very well in the graduate school context where classes tend to be smaller."
Sylvia Tiersten is a freelance writer for the Business Journal.