REAL ESTATE NEWS IN AND AROUND SAN DIEGO COUNTY
Real Estate Roundup
Monday, March 15, 2010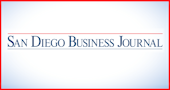 Spin-Off Roka Bioscience Moves Into Converted Space
Tenant improvement construction has begun for Roka Bioscience Inc.'s 56,700-square-foot office, research and development, and manufacturing facility, located at 10398 Pacific Center Court in Sorrento Mesa.
Roka Bioscience, a new spin-off company of Gen-Probe Inc., is focused on developing rapid, highly accurate molecular assays for biopharmaceutical production, water and food-safety testing and other applications.
The two-story building, formerly occupied by Nanogen Inc., will encompass office and laboratory space and manufacturing areas to facilitate Roka Bioscience's newly formed operations. Design and construction is being performed in two phases to expedite completion and allow Roka Bioscience to occupy the space by March 31. Full completion is targeted for June.
Wally Narajowski, senior vice president and general manager of Roka Bioscience, is overseeing the $852,000 project, along with Dave Patterson, vice president of operations for the startup firm.
Smith Consulting Architects is providing full space planning and interior design services for the tenant building improvements. Pete Bussett, AIA, a Leadership in Energy and Environmental Design accredited professional, is project executive for Smith Consulting, with Ned Haskell serving as project manager and Jaime Ramirez, LEED accredited professional, as job captain.
Good & Roberts Inc., General Contractors of Vista is serving as general contractor. Prime Structural Engineers is the structural engineer, Ickler Electric Corp. of Poway is the electrical engineer, and Jackson & Blanc is serving as the mechanical engineer.
Shawn Burnett of Irving Hughes Inc. is representing the tenant.
Church Expansion Starts With New Youth/Education Building
A new, 1,600-square-foot youth/education building is under construction at the San Carlos United Methodist Church. Work began Feb. 15 and the project is expected to be completed by late June.
Designed by domusstudio architecture, the one-story youth/education building will have one large room, an office, bathrooms and kitchen, as well as a courtyard area and entry porch.
This project represents Phase 1A of an approved multiphase master plan for the San Diego-area church. The next phase is an addition to the structure that will replace the church's existing preschool building. The educational building will set the tone for the other phases of the master plan, with additional aspects of the master plan being developed as ministry and services grow.
Sustainable concepts are incorporated throughout the master plan, including the use of noncombustible composite roofing material for the youth/education building.
My Perfect Pet Relocates To Larger Poway Facility
In response to an increased demand for fresh and frozen pet food, My Perfect Pet is moving its entire kitchen from a 2,200-square-foot leased space on Broadway in El Cajon to a new, 4,100-square-foot facility in Poway.
At its new space, My Perfect Pet will have the capacity to begin making cat food as well as generate more dog food products. There will also be an open-viewing lobby, looking into the entire kitchen, where visitors can watch as the food is made and prepared for distribution.
The new Poway facility at 12655 Danielson Court, Suite 312, is ideally located around the corner from the company's main distributor, Sysco San Diego Inc., which makes for easy access to necessary ingredients. The public will be invited to visit the new facility when My Perfect Pet opens for business this spring.
Construction Firm Hired To Build Medical Offices
San Marcos-based Richard & Richard Construction Co. Inc. has been contracted by Dr. Rafael Cueller to design and complete construction of his new, 2,945-square-foot office suite located at 2341 S. Melrose Drive in Vista. Work will begin March 18, and should take about eight weeks to complete.
Richard & Richard will be conducting interior improvement of the walls, ceiling, plumbing, electrical and heating, ventilation and air conditioning to make room for Cueller's internal medicine and gastroenterology offices. The new offices will consist of 11 exam rooms, upgraded lobby and restrooms, a private bathroom and a vaulted ceiling at the entrance.
The project will be led by Project Manager John Very, Superintendent Steve Basko and Project Administrator Brittney Simons.
Brookfield Homes Waiving Closing Costs on Select Sites
New-home neighborhood Mahogany at Old Creek Ranch in San Marcos is offering no closing costs on select home sites until March 31. Mahogany homebuyers may also currently qualify for the federal tax credit of $8,000 for first-time buyers and $6,500 for repeat homebuyers.
Located just east of Carlsbad in San Marcos, Mahogany homes are priced from the mid-$600,000s, with one- and two-story homes ranging from 2,410 to 3,875 square feet.
Brookfield San Diego Builders Inc. builds homes throughout San Diego and Riverside counties. Brookfield is currently building in the master-planned communities of The Foothills in Carlsbad, Windingwalk in Chula Vista, The Estates at StoneBridge east of Scripps Ranch, Old Creek Ranch in San Marcos and Morningstar Ranch in Winchester.