Farmers Will Be Back as Golf Tournament Sponsor
Monday, March 15, 2010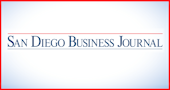 Farmers Insurance, which signed a last-minute agreement to sponsor this year's PGA Open Tournament at Torrey Pines Golf Course, has inked a deal to sponsor the tournament for the next four years, according to a March 15 announcement.
The withdrawal of Buick due to the bankruptcy last year of parent General Motors sent local organizers scurrying to find a replacement for the annual golf tourney until the Farmers Group, a wholly owned subsidiary of the Zurich Group, stepped up to become the main sponsor of the event held Jan. 18-31.
"This four-year agreement between Farmers Insurance, the PGA Tour and the Century Club adds a wonderful new chapter to this 'dream come true' partnership," said Tom Wornham, president and general chairman of the Century Club, the San Diego nonprofit that manages the local tourney.
Farmers agreed to incremental growth in the total purse with the next year's event to pay out $5.8 million, up by $300,000 over the 2010 event.
— Mike Allen