TRANSPORTATION: SHOVEL-READY PROJECT WINS COMPETITION FOR DOLLARS
SR-905 Upgrade Receives Stimulus Funding
Monday, March 8, 2010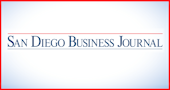 San Diego — A key highway project in the South Bay, state Route 905, was awarded a $20.2 million grant through funds allocated from the $787 billion federal stimulus package.
The grant provided sufficient funds to complete the final piece of the long-planned expansion and upgrade to the connecting road between the Otay Mesa Port of Entry and Interstate 805.
Competition For Stimulus Funds
It wasn't as if the grant money was just given away to every road project that sought stimulus bill funding, says Tina Casgar, policy manager for the San Diego Association of Governments, the regional planning agency that's managing the SR-905 project.
"There was a lot of competition for this money," Casgar said. "For every dollar (the U.S. Department of Transportation) had available, there were $8 worth of applicants."
The South Bay project likely obtained the funds chiefly due to already having all the necessary environmental studies completed, and building permits, she said.
"It's a shovel-ready project, which is what they were looking for," she said. "The whole theory is that they were looking for projects that create jobs now and not waiting for three years to get everything approved."
Construction work on the SR-905 improvements began in 2008, and continues on two distinct fronts, according to Sandag. The total 905 project will cost about $432.8 million, Sandag said.
Of that amount, $74 million was provided from the federal bailout package, also called the American Recovery and Reinvestment Act of 2009.
Traffic Volume Projected To Triple
The 6.5-mile stretch between I-805 and the Otay Mesa border crossing is traveled by a large number of trailer trucks daily, most of which are coming or going to the area's maquiladoras or twin plants in Tijuana, and to warehouses and other industrial parks on the U.S. side of the border.
Much of the connector called Otay Mesa Road is a six-lane surface street and the only access to the border crossing. Currently about 68,000 vehicles a day travel the road, but traffic is expected to triple by 2030, Sandag said.
The latest funding is specifically tabbed for the final phase of the project, an interchange with I-805. Work is expected to start in September and be completed in 2012.
The project has long been in the planning stages and is necessary to correct what is now a "challenging" commute for many drivers along Otay Mesa Road, and ensure that the area continues to attract new businesses, said Cindy Gompper Graves, chief executive for the South County Economic Development Council.
"We need to expand the transportation backbone of this area's infrastructure to make it easier for companies to ship and move their products," Gompper Graves said. "More companies are locating to South County and that's the good news, but the flip side is that those companies are generating more traffic. We have to invest in the infrastructure to support companies that are already here, and the companies that may be coming."