FINANCE: REAL ESTATE CHALLENGES THWART EFFORTS TO OVERCOME HURDLES
Upticks Since '08 Signal Small-Business Lending Is on the Mend
Monday, March 1, 2010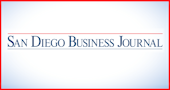 San Diego — Local banks and the director of the Small Business Administration in San Diego expect that small-business lending should increase this year, albeit incrementally, over last year.
Steve Doss, Wells Fargo's regional sales manager for SBA-backed loans, said the fourth quarter in his Southern California territory was "almost flat" over the same 2008 period for loan volume.
"We're not seeing more volume, but there are more lenders involved," said Doss. "They're getting back into competing against us."
Meanwhile, in January, small-business loan applications almost doubled for Wells Fargo from the same month last year. And Doss figures that's likely how 2010 will shape up over last year.
"With the (downward) changes in the economy many lenders dropped out of the SBA program," said Doss. "And many of the lenders have survived, but have been sitting on the fence. Those lenders are now getting more active."
At the height of the housing market bubble, the common practice for banks was to bundle loans and sell them to Wall Street investors at a premium. Wells Fargo, he said, instead put its loan assets on its books and serviced them.
But in 2008, the secondary loan market from Wall Street collapsed and that left them with no liquidity to do more lending.
Federal stimulus funds, said Doss, have restored a lot of SBA secured, lending capability and that has triggered more banks into lending again. SBA loans can finance commercial buildings without fees, for instance, for less cost than a traditional loan.
Serious Challenges
Even so, cautioned Doss, there are serious challenges to bringing the lending world back to normal conditions. The low appraisals of commercial real estate can keep lenders from making a financing deal when comparable real estate values don't verify the appraised value.
"Commercial real estate values are still pretty soft," said Doss. "That has been the hurdle in Southern California. But we're cautiously optimistic that we'll start to see values start to creep up."
Teofla Rich, senior vice president of Torrey Pines Bank, said loan totals for the bank increased 13 percent in the fourth quarter last year over fourth quarter 2008, to $819 million. The bank's year-end 2009 deposits grew 32 percent to $931 million, from 2008. It also grew its assets to $1.16 billion at year-end 2009 from $860 million for 2008.
The bank's SBA-backed 504 loans, however, which are aimed at owner-occupied commercial building purchases, declined 11.8 percent for the fiscal year ending last September, from the year earlier. Torrey Pines Bank has been the local leader in 504 loans for five years running.
Rich said the bank is careful to give close scrutiny of small-business loan applicants.
"A lot of businesses have gone through tough times in 2008 and 2009," said Rich. "We talk to them and ask how they have reinvested and cut expenses. We've tried to zero in on what they're doing internally to respond to the changes in the economy and how they're managing their company. It makes sense to sit down with a business owner to find out what they're doing to ensure they'll continue to succeed."
As small-business lending shows signs of new life, Rich expects Torrey Pines Bank will increase its lending this year. But like Doss, she doesn't expect a sudden recovery.
"Unemployment is going to be a real key," she said. "We're lucky to be in Southern California and San Diego where the business environment is fully entrepreneurial."
People who have lost their jobs to downsizing, she said, have gone out to start their own businesses. While challenging, she expects entrepreneurs starting their own businesses will be a big part of any economic recovery.
Lending Volume Increases
Ruben Garcia, district director of the SBA's San Diego office, said SBA-backed lending increased 60 percent locally at the end of the federal fiscal year last September from the previous September.
"It's great growth," said Garcia. "We're seeing a great number of bankers and lending institutions that hardly did business with us since 2008 or before."
Those loans are often awarded after an applicant company with less than 500 employees gets a favorable credit report. The loans are for credit lines worth between $350,000 and $1 million and are approved quickly, in 24 to 48 hours. The rates on such loans typically range between 2.75 percent and 4.75 percent, which is tacked onto the base Wall Street prime rate.
Meanwhile, a federal proposal seeks to raise the funding range for these SBA loans to between $2 million and $5 million. If that happens, said Garcia, "It's going to open a lot of doors."
The difference between now and the past few years of economic turmoil, said Garcia, is available capital.
"People are aware there is capital," he said. "Money that had been frozen has been freed up. Banks know they can't just sit back on the sidelines and play it safe."
Like Rich, Garcia sees the creation of jobs coming from new businesses as the driver of better economic times. He's watched local unemployment drop to 9.7 percent from 10.2 percent in the past year. While not a huge drop, he sees it as a good sign.
"A year ago there was no light at the end of the tunnel," said Garcia. "This year, the light's been turned back on. There's more optimism."
Karen Racusin, consumer banking head for US Bank in San Diego, the Inland Empire and desert region, also sees signs pointing to an improved economy.
"Over the last few months as I've listened to economists, the mood is that it is creeping back slowly, getting better," said Racusin. "With that, business needs, appetites and confidence get better."
She noted that the industrial segment of the economy is showing signs of a comeback, adding, "There are little bright spots everywhere. We're hoping small-business owners start to gain some confidence and take a risk, and start to make investments in their businesses."
Mark Larson is a freelance writer for the Business Journal.