Area's Economic Index Makes Small Gain
Wednesday, June 30, 2010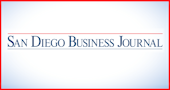 An index measuring the San Diego economy rose for the 14th consecutive month in May, led by a surge of new building permits, according to a June 30 report from the Burnham-Moores Center for Real Estate at the University of San Diego.
The USD Index of Leading Economic Indicators increased by two-tenths of a percent, with four of the six components showing gains: residential building permits, help wanted advertising, the index for the national economy and local consumer confidence.
Two components showed losses: local stock prices and the number of unemployment insurance claims. A rise in the latter measurement counts as a loss.
Alan Gin, the USD economics professor who compiles the data for the index, said the outlook for the economy is unchanged. The region is likely to continue to grow at a slow and moderate rate for the rest of the year and into 2011.
A big unknown is how the state's budget deficit will play out in terms of job cuts, particularly in education, Gin said.
"While higher education appears to have been spared in the budgets proposed so far, there continues to be pressure on K-12 education," Gin said.
While the national index of leading economic indicators was unchanged in May compared to April, and over the past 14 months has either risen or stayed the same, unemployment remains high and consumer spending has slowed, leading to the possibility of a double-dip recession, he said.
— Mike Allen