Regional Report
Monday, June 28, 2010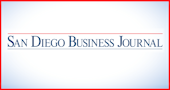 Fallbrook
Merger Creates Real Estate Private Equity Specialist
Altus Equity, a private equity firm with two offices — one in North County and one in Northern California — has finalized the merger that brought it into being, company principals said June 14. Altus specializes in residential and commercial real estate. Financial terms of the deal were not disclosed.
The company's local principal is David Nejely, whose previous business was Fallbrook-based CSP Inc. CSP was a consulting firm involved in the buying, developing, repositioning and selling of small, service-based companies.
Nejely joins forces with Forrest Jinks, whose former business, Expowth Inc., was a real estate investment and business consulting company in Santa Rosa.
— Brad Graves
San Diego
Company Works on Runway Debris Removal System
Technology developer Trex Enterprises Corp. has begun tests in Carlsbad and Hawaii on a system that detects potentially hazardous debris on airport runways.
Spokesman Grant Bishop said the company's FOD, or foreign object debris, Finder, which uses radio waves, was recently tested at McClellan-Palomar Airport, and research is also continuing at facilities in Hawaii. Officials from the Federal Aviation Administration were at the local airport in early June to observe tests.
According to Trex, the device is mounted on a truck, which also uses a vacuum system to remove litter from runways.
Trex is based in the Sorrento Mesa area, and has operations in Hawaii, New Mexico and Massachusetts.
— Lou Hirsh
Oceanside
City Will Not Require Collective-Bargaining Deals
Local voters have approved a municipal charter that prohibits the city from requiring contractors on construction and other public works contracts to enter into a project labor agreement. Such pacts are pre-hire collective bargaining agreements that establish terms and conditions of employment on construction projects, and apply to union and non-union contractors.
The measure was part of a broader charter approved June 8 as Proposition K, and private parties will still be able to enter into individual collective bargaining relationships. The proposition passed with 53.9 percent voting yes and 46.1 percent voting no, according to updated election results posted June 16 on the city's Web site.
A similar prohibition was also approved June 8 by voters in Chula Vista. San Diego and Orange counties, and The City of Fresno, have previously decided not to require project labor agreements on public projects.
— Lou Hirsh
Chula Vista
Funds Help Small Biz Gain Contracting Opportunities
Southwestern College said June 22 that it received $86,400 in City of San Diego funding to help support its San Diego Contracting Opportunities Center. The money will allow the center to help local small businesses secure contracting opportunities with local, state and federal government agencies at no cost, it said.
"Helping local businesses secure contracts (keeps) our businesses open and residents in their jobs during these tough times," said Superintendent Raj Chopra. More than $68 million in contracts awarded this year were attributed to the center's assistance. The majority was awarded to local businesses owned by females, minorities and veterans with disabilities, according to the center.
The grant funding comes from the city's Community Development Block Grant program, which aims to reduce neighborhood blight in low- to moderate-income areas. The city distributes about $19 million annually from the federal government in CDBG funds.
— Heather Chambers
San Diego
Quartet Delivers American Tavern to Point Loma
Jimmy's Famous American Tavern recently opened for business at the Promenade in Point Loma.
The gastropub serves regional American cooking, micro-brews and specialty cocktails.
The restaurant located at America's Cup Harbor at 4990 N. Harbor Drive has 3,736 square feet. Its owners are David Wilhelm, Jimmy Duval, and Jeff and Todd Hatch.
Hours are Monday through Saturday, 11:30 a.m. to 11 p.m.; and Sunday, from 10 a.m. to 2 p.m. for brunch, and 4 to 11 p.m.
— Mike Allen
North County
Palomar Pomerado Health Garners Premier Awards
Palomar Pomerado Health was selected June 9 one of three health care systems in the nation to receive the Premier Award for Quality, aka AFQ, by the Premier Inc. health care alliance, an organization made up of more than 2,300 U.S. hospitals and 67,000 other health care providers.
The award recognizes leading health care organizations that efficiently provide outstanding patient care and consistently set the standard in clinical excellence. The organization measured quality by the incidence of three adverse outcomes: mortality, morbidity and complications. It also took into account length of stay.
"We are consistently pushing ourselves to set a high standard in clinical excellence nationwide," PPH Chief Executive Officer Michael Covert said in a statement.
— Heather Chambers