Accelrys Merger Makes Most Sense, Symyx Board Argues
Friday, June 25, 2010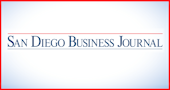 The board of directors of Santa Clara-based Symyx Technologies urged its shareholders to vote for a proposed merger with San Diego-based Accelrys Inc., and reject a counter offer for the company made by a group led by the venture capital firm Centara Corp., Symyx said June 24.
Symyx's board said Centara's latest offer of cash that valued the company at $200 million wasn't superior to Accelrys' stock offer that currently values the company at $183 million.
Under the merger that was proposed in April, Symyx shareholders would receive a 0.7802 share of Accelrys for each share of Symyx stock. As of June 24, that would yield $5.29 per share.
The boards of both Symyx and Accelrys have approved the merger of the companies that make software that helps in the research and development of products in a variety of industries, but mainly in biotech and life sciences.
The transaction requires approval of shareholders of both firms which are holding special meetings on the deal June 30.
Accelrys reported net income of $1.2 million on revenue of $68.6 million for the fiscal year ended March 31. Symyx has about $150 million in annual revenue.
Shares of Accelrys, traded on Nasdaq under ACCL, rose 2 cents in midday trading June 25 to $6.80.
— Mike Allen