TECHNOLOGY: UCSD STUDENTS EVALUATE COMPANIES FOR INCUBATOR
Startups, Students Benefiting From New Partnership
Monday, June 21, 2010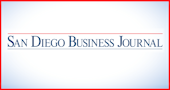 Some students at the Rady School of Management at UC San Diego are getting the type of real world experience that is hard to find, thanks to a new partnership between the school and EvoNexus, an incubator formed in San Diego last year.
Under terms of the partnership, announced June 10, Rady students will work with technology industry experts in evaluating which new companies are accepted into the incubator, with its main offering of free rent. The students will also be matched with a particular business, helping them move from a concept to an actual operating entity.
EvoNexus was launched in October by CommNexus San Diego, a trade association of area high-tech companies. In addition to the free rent, businesses accepted into EvoNexus have access to expert mentoring and other services, such as free information technology, as they move from startup to revenue generation.
Cathy Pucher, executive director of EvoNexus, says the incubator is providing experience to Rady students, but the startups benefit as well.
"Most of our startups are operating on a shoestring budget and the company-specific projects will provide them with valuable input, while providing students with resume-building practical experience," Pucher said.
Lada Rasochova, director of entrepreneurship programs at the Rady School, says the latest round of applicants should draw the typical number, between 30 and 40, but obviously there are a limited number of companies that can be accepted.
Conducting Due Diligence
The students will work with EvoNexus staff, conducting due diligence of the applicants, evaluating their commercial potential, and make recommendations to the board as to which companies are accepted, Rasochova says.
EvoNexus has nine startups, including two recently accepted into the incubator, says CommNexus spokeswoman Olga Teplitsky. She says the incubator's board will likely admit two more from the latest round of applicants, sometime in August.
Among two firms that were accepted early on are ecoATM and IO Semiconductor Inc. The latter is a fabless semiconductor manufacturer aimed at the wireless industry. EcoATM is developing a kiosk that allows consumers to recycle their mobile phones and other hand-held devices for some compensation.
The main goal behind EvoNexus is to foster new sustainable businesses that create jobs for the region, Teplitsky says.
Entry Criteria
The companies accepted by EvoNexus aren't all necessarily young in years, and all of them have achieved some funding, ranging from angel investment to venture capital investment and government grants, she says.
"The entry criteria isn't based on the number of years it's been in business, but where they are on the path to getting more funding," she said.
EvoNexus itself is going through a transition, moving its initial space in Sorrento Valley to a fourth-floor office in University Towne Center at 4225 Executive Square Drive. The space is being donated by the building owners, The Irvine Co. LLC. The move is scheduled for July 6.
The new donated space is for two years, which, coincidentally, is the approximate time that companies accepted into Evo-
Nexus are expected "to graduate."
Why UTC? "We think this is going to be (the) new center for San Diego's high-tech industry," Teplitsky said.