Regional Report
Monday, June 21, 2010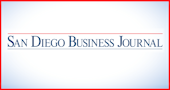 San Diego
Qualcomm Paying $1B for Radio Spectrum in India
Qualcomm Inc. has agreed to pay $1.05 billion for radio spectrum in four regions of India. The wireless giant said June 12 that it was the winning bidder in a government auction of some 20 megahertz of spectrum in the 2.3 gigahertz band in the vicinity of Delhi, Haryana, Kerala and Mumbai.
In a statement, Qualcomm said it will soon announce its Indian partners in a network-building enterprise.
Qualcomm, which may be best known as a cell phone chipmaker, trades on Nasdaq as QCOM. As of June 14, shares were trading near the low end of its 52-week range of $34.33 to $49.80.
— Brad Graves
Carlsbad
Legoland Makes a Splash, Opens $12M Water Park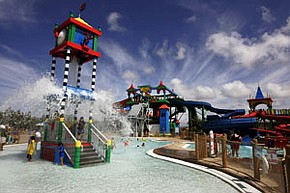 Legoland California amusement park opened a 5.5-acre water park May 28. Design work on the $12 million water park began 18 months ago, and it is the largest expansion in the park's 11-year history, according to a statement on the company's Web site.
The water park, on Legoland's north end, has features such as Orange Rush, a family tube slide where up to four people can ride together down a 312-foot track; and Twin Chasers, two side-by-side tube slides stretching nearly 130 feet.
The 128-acre Legoland California is owned by Merlin Entertainments Group Ltd, based in England.
A second U.S. Legoland park is slated for a fall 2011 opening in Florida.
— Lou Hirsh
El Cajon
City to Use Grant to Be More Energy Efficient
The City Council has voted to accept an $881,100 federal block grant that will help the city upgrade municipal facilities to be more energy efficient. The city plans to install energy-efficient lighting at buildings including City Hall and the Ronald Reagan Community Center, and will also replace streetlights at several locations.
The council voted May 25 to accept the grant, which is part of a federal program announced in March, investing $3.2 billion in energy-efficiency and conservation projects throughout the U.S.
El Cajon was among several California cities receiving a total of more than $351 million in statewide grants under the program, according to the U.S. Department of Energy.
— Lou Hirsh
Chula Vista
Funding to Help Create Jobs, Expand Businesses
Southwestern College announced $150,000 in new funding for its Small Business Development Center and Center for International Trade Development.
The funding came from the city of San Diego's community block grants, and conformed to the city's priority of creating jobs and expanding business, the city said.
In 2009, the SBDC and CITD helped 3,896 clients, along with helping some of those clients obtain 26 loans totaling about $2.56 million, according to Southwestern College.
The clients reported creating 72 new jobs, retaining 34 other jobs, and increased sales of $24 million.
— Mike Allen
San Diego
BakBone Software Inc. Reveals Higher Net Loss
BakBone Software Inc. reported June 10 that it had a net loss of $12.2 million on revenue of $14.7 million in the fourth quarter of its 2010 fiscal year, which ended March 31. That compared with a net loss of $883,000 on revenue of $14.4 million in the previous fourth quarter.
The 2010 results reflect a $12.6 million nonrecurring, noncash asset impairment charge for its ColdSpark division, which the company acquired in 2009 and closed in May.
For the whole of fiscal 2010, BakBone reported a net loss of $9.8 million on revenue of $61.9 million. That compared with a net loss of $5.5 million on revenue of $56 million in fiscal 2009.
BakBone specializes in products for data backup and recovery. Its shares trade over the counter as BKBO.OB.
— Brad Graves