Chamber Golf Tourney Drives Spotlight Toward Marine Heroes
Monday, June 21, 2010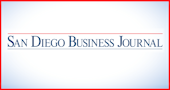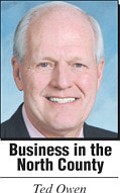 Our country is going through a major transformation. We are trying to come out of the worst recession in modern history. We are fighting two wars in far-off lands. Our disgruntlement with government is nearing the tea-party age of our forefathers' time.
One thing, however, that is not wavering is our patriotism. Our love of our country and its military is at an all-time high. Not since World War II have our fighting men and women been so respected and welcomed everywhere they travel in our nation.
On June 10, the Carlsbad Chamber of Commerce held its annual charity Golf Tournament, and among the more than 125 golf enthusiasts were eight U.S. Marines from the Wounded Warriors Battalion at Marine Corps Base Camp Pendleton. In addition, Col. Robert Modrzejewski, a retired Marine Corps war hero from Vietnam and holder of the nation's highest award for heroism — the Medal of Honor — played in the tournament. During the awards dinner portion of the tournament, the eight Marines and the colonel were introduced to long, thunderous applause by the guests in attendance.

The patriotism of the audience was quite evident, but something else took place that night. Those young Marines in attendance, some of them with noticeable limps from their wounds, met one of the Corps' heroes whom they had only read about in their history classes in boot camp.

The Medal of Honor is the most revered decoration in military history. Very few medals are ever presented, and more than half are presented posthumously. Today, fewer than 100 recipients are living.
Battling the Wrong Marine
Let me illustrate briefly what the colonel did as a young infantry company commander in Vietnam in 1966.
On July 15, he and his company of 150 Marines landed by helicopter to secure an enemy supply route. When they landed, they were immediately attacked by a well entrenched enemy force. The Marines dispatched the enemy unit and captured its supplies. That night, and for two more days, the colonel and his valiant warriors battled an enemy force of nearly 3,000 North Vietnamese regular soldiers sometimes in hand-to-hand combat. The colonel — then a captain — was seriously wounded but stood his ground and guided his Marines to victory.
On the second night, a battalion sized element of approximately 1,200 North Vietnamese army regulars attacked the outnumbered Marine unit and lost the fight. Even though the colonel was seriously wounded, he crawled across 200 meters of fire-swept terrain to provide critically needed ammunition. Even though he knew he was surrounded by a superior sized enemy force, he continued to encourage his men and eventually called in artillery fire to suppress the enemy attack on his own positions.
There is more to the citation, but it is sufficient to say the enemy had tackled the wrong guy and his band of warriors.
At the conclusion of the dinner, the young Marines one at a time walked over to talk privately with the hero they had only read about in books. I overheard one say to the colonel, "Sir, is there a time when we could get you to come and visit our unit? All my comrades would be honored to meet you." His reply was, "I certainly will."

Leading With Valor
Wounded Warriors all have one thing in common: They respect each other and will die to prove it.
I have known Bob for more than 30 years and one thing I have learned about him is that he exudes leadership. This is a pretty good description of Bob Modrzejewski, the warrior from Milwaukee.
The challenge of leadership is to be strong, but not rude. Be kind, but not weak. Be bold, but not a bully. Be thoughtful, but not lazy. Be humble, but not timid. Be proud, but not arrogant. Have humor, but not folly. Bob is all this and more.
When I started this column, it was about how patriotism and its popularity today are key to bringing our democratic society back to pre-9/11 days. The way to get the economy back, our lifestyles fully realized, and to keep us the strongest nation in the world, is to simply look at the Bob Modrzejewskis of the world and see the effect they have on our modern-day warriors like those young golfing Marines from the Wounded Warriors Battalion. We all can live vicariously through men like him.
Ted Owen is president and chief executive officer of the Carlsbad Chamber of Commerce.