HEALTH CARE: SMALL SCANNER MAY HELP DOCTORS AS MUCH AS TRADITIONAL TEST
Scripps to Unveil Results of Medical Device Study
Monday, June 14, 2010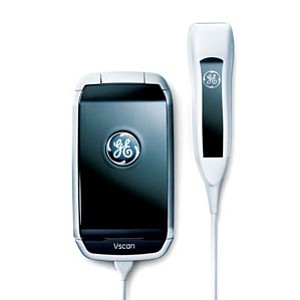 San Diego — Smaller, more portable medical devices aim to transform the future of health care delivery, but clinicians say they'll need more evidence before they trade their traditional tools for new ones.
Scripps Green Hospital of La Jolla has put one such device, the Vscan, to the test in an effort to understand whether the hand-held ultrasound scanner made by General Electric Co. can perform as well as a traditional cardiac ultrasound, known as the echocardiogram or ECHO.
Cardiologists involved in the 100-person study sought to understand whether the 2-D Vscan can "hear" and "see" the heart just as well as the ECHO. Scripps plans to unveil results of the yearlong trial June 14 at an annual meeting of the American Society of Echocardiography at the San Diego Convention Center.
"We know that physicians, not just cardiologists, are considering buying these, and there's no data," said Dr. Eric Topol, a cardiologist who serves as chief academic officer of Scripps Health and chief medical officer of the West Wireless Health Institute. "We're hoping we will be the first publication."
Traditional ECHOs can reveal key details about the heart's anatomy, proving especially useful for detecting congenital heart disease or problems with the heart valves. In 2008, there were 7 million rest ECHOs and an additional 400,000 stress ECHOs covered by Medicaid, the most recent year for which the data was available.
Smaller Might Be Better
But the exams rely on cabinet-sized technology that can't be deployed remotely. Pocket-sized devices like the Vscan have the potential to one day help paramedics identify whether a patient is having a heart attack or to assist emergency room doctors in assessing a patient's condition in about two minutes, Topol said. Traditional ECHOs can take up to 45 minutes.
"There are countless other applications that we're just scratching the surface," he said.
Topol was among the first cardiologists in the nation to test the Vscan, which was cleared by the U.S. Food and Drug Administration this year. He made mention of the pocket-sized ultrasound device in October at the TEDMED medical technology and health care conference, declaring that "the stethoscope is dead." And in January, he showed it off at the Consumer Electronics Show in Las Vegas by demonstrating it on his own heart.
In an interview last week, he said he's been using the device on his patients as part of their routine exams.
"It really is the first true stethoscope," he said. "What we've had all these years, the icon of medicine, is really a stethoscone. We just listen; we don't look in."
Before the device replaces traditional ultrasound equipment, however, Topol and others are interested in determining how well it compares. GE said it plans to gather more data on the device by testing it at a dozen sites nationwide. Hospitals like Scripps Green are testing it on an independent basis.
More Expensive
Dr. Daniel Blanchard, who serves as chief of clinical cardiology at UC San Diego's Thornton Hospital in La Jolla, has also been testing out the device on his own to see how well it compares to older hand-held ultrasounds.
Its imaging quality has limitations, he said, and would require cardiologists to be fully trained on its use.
"In its current state, it doesn't replace the full ECHO," he said. He added, however, that "it's probably more accurate in most people's hands than the stethoscope is."
He said the biggest limitation on widespread use will be the device's cost.
Vscan is priced at $7,900 per unit, well above the $200 to $400 price of a stethoscope, but lower than the cost of leasing traditional ultrasound equipment.
If used as a preventive tool, the device might help put a sizable dent in U.S. health care costs, Topol said.
"If you can do it as part of your physical exam, it can prevent the cost of a transthoracic chest wall ECHO," he said.