LAW: SEATTLE-BASED FIRM EXPANDING ITS GLOBAL IP PRACTICE
Local Legal Figures Combine Forces in New Perkins Coie Office
Monday, June 7, 2010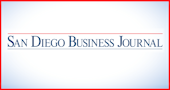 San Diego has become home to yet another international law firm, this time adding intellectual property powerhouse Perkins Coie LLP.
The law firm, founded by a team of former San Diego attorneys in the offices of Fish & Richardson P.C. and Paul, Hastings, Janofsky & Walker LLP, made its debut last week.
The firm hopes to have 20 to 50 lawyers in San Diego by the end of the year, according to San Diego Managing Partner Thane Bauz. He said the firm will offer intellectual property litigation, patent and trademark prosecution and technology licensing, among other services.
"We want to grow in San Diego but we're also supporting existing clients whether they're in California or beyond in high technology and life science IP matters," Bauz said in an interview last week.
Bauz, a patent litigator who came from the San Diego office of Paul Hastings, has reunited with his former Fish & Richardson colleagues at Perkins.
Former Fish attorney John Schnurer joins Bauz in the firm's patent litigation group, while Brian Wacter and Bing Ai form its patent prosecution team. Bauz said the combination of partners made sense, especially given that much of their work overlapped. Additionally, he said the partners liked the idea of offering their clients alternative fee arrangements.
"In light of the recession, I think clients are looking for flexible fee arrangements that can be identified to serve their needs and still provide outstanding service," Bauz said. "That's a big part of my decision to come to Perkins Coie."
Firm Has 15 International Offices
The new San Diego partners join an IP practice that includes more than 200 lawyers throughout the United States and China. Altogether, the Seattle-based law firm counts almost 750 attorneys in 15 international offices. It has four California offices, including San Diego, and more than 100 attorneys in the state.
Perkins attorneys represent major Fortune 100 companies like Boeing and Intel Corp. among their larger clients, although the firm also helps counsel emerging companies in matters such as securing venture funding and obtaining patents.
Notably, the firm also represents the Democratic National Committee as counsel of record and President Barack Obama as his personal attorney. Last year, President Obama appointed Robert Bauer, chair of the firm's political law group, to become his White House Counsel.
In recent years, the firm has expanded by adding attorneys from defunct law firms such as Heller Ehrman LLP, while strengthening its IP practice, according to firmwide Managing Partner Bob Giles.
In 2009, the firm reported that its profits increased to $433 million, up about 2 percent over a year earlier. Profits per partner decreased a quarter of a percentage to $802,111. Revenues per lawyer were also down, about 1 percent to $646,295 compared with a year ago.
Perkins said the San Diego firm is positioned to take advantage of the anticipated need for counseling new and emerging companies once the economy recovers fully.
Continuing Growth in California
For now, though, the firm has identified intellectual property law as its main focus and part of the companywide strategic plan. That plan also identified California as a major area of future growth.
But building critical mass in an already crowded IP legal environment in San Diego will be difficult, according to San Diego legal recruiter Larry Watanabe.
"In San Diego, there are a lot of firms now that have arrived and have offices outside the area," he said. "The long-term question is going to be, 'How quickly can they get to that level of critical mass?'"