CONSTRUCTION: SCHOOL ADDING MEDICAL FACILITIES, 4 APARTMENT COMPLEXES
$568 Million Worth of Buildings Going Up at UC San Diego
Monday, July 26, 2010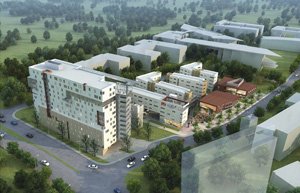 San Diego — Low-interest university bond funding, high demand for construction at down market prices, easy term financing, and cash reserves are enabling UC San Diego to construct six more buildings, promising it a new, modernized skyline.
The school's $568 million worth of construction under way includes four student apartment complexes, adding 2,600 beds to the campus as it tries to meet a pent-up demand for more student housing.
Meanwhile, a cardiovascular center and medical education/telemedicine center are also being built. The last of the projects will be finished by mid-2011.
It's a revved up economic engine for the region, providing an estimated 5,500 on-site construction jobs in the next year or so to a San Diego industry that has lost 26,000 jobs during the last three years.
"It's certainly a boom for us," said Mark Cunningham, executive director of UCSD's housing, dining and hospitality services. But he's quick to point out that all this construction hasn't happened overnight. It took a little planning.
"Everybody's always saying when they see buildings coming out of the ground, 'Wow, when did you start that?' " said Cunningham. "I tell them, 'Uh, five years ago.' "
Beneficial Timing
While the timing has worked well, yielding low construction costs because of tough times in that sector, Cunningham says there was no intentional timing involved.
"I'd love to tell you we saw the market shift," he said. "A lot of good luck came to us. We're looking at the lowest costs in well over a decade."
That has enabled the university to add value into its new buildings, such as certified, environmentally friendly features promising LEED, or Leadership in Energy and Environmental Design, gold and possibly platinum ratings.
One of the features will be electrical use metering of each apartment within a complex. With such metering, renters can be billed for exactly the energy they use, so they'll likely be conscious of the rewards of using less. In the past, at UC San Diego, says Cunningham, only buildingwide metering was affordable, and that hasn't encouraged energy savings by tenants.
Three of five projects are newly financed with UC bonds at 3.91 percent interest for 40 years, and will be paid by student housing fees. Interest rates on bonds have typically been around 7 percent, says Cunningham.
Newly built housing that opened last autumn has attracted about 1,000 transfer students to the campus. Twenty-three percent of those students haven't brought cars with them, says Cunningham.
Additional Beds
A phase-two complex for transfer students, the Village at Torrey Pines East, is being built now and will be complete in the spring.
Building that 146-unit, $97.7 million project is Bethesda, Md.-based Clark Construction Group LLC. Project manager Scott Wentworth says it is made up of seven buildings providing 238,000 square feet of floor space, and 801 beds.
The first building is 13 stories, with four-, five- and six-bedroom layouts in the apartments. Buildings two through five are five-story, low-rise structures also offering four-, five- and six-bedroom units. All units will have kitchens and living rooms. The sixth building will be a market, and the seventh a bistro.
San Diego-based Carrier Johnson + Culture is the project architect creating an urban village setting. A pedestrian walk, dubbed "the strand," will cut diagonally through the buildings. Amenities such as the bistro and market, study rooms, vending areas, laundry room and administrative offices will be connected by footpaths through green spaces.
"The big change is pre-heating of domestic water using thermal solar panels," said Wentworth. That's aimed at saving energy.
Clark has 3,500 employees and had $4.7 billion in sales last year, says Wentworth. For this project, it has employed up to 260 construction workers at peak times, and about 225 on average.
Graduate Student Homes
Meanwhile, San Mateo-based general contractor Webcor Builders is building a $67.1 million housing complex for graduate students. John Beccaria, Webcor's project director, says the design-build project to be called Rita L. Atkinson Residences, is scheduled to open in September.
The 228,000-square-foot building is on 4.5 acres near the School of Medicine. It will house 452 unmarried graduate students in two-, three- and four-bedroom, kitchen-equipped units built in a loft style. It will have two wings, one nine stories, the other seven.
Designed by Chicago architect Joe Valerio, the building has a glass and synthetic stucco exterior, and polished concrete floors. All occupied interior spaces have outdoor views and operable windows, enabling non-mechanical ventilation throughout the building. It is topped with a community "green roof" for landscape plants, designed to reduce storm drain water flows from the building. It features rounded columns, and stylized angular "bites" offering modernized, eye-catching alterations to the outside lines of the building.
Construction started in March 2009 and is two months from completion. Computer graphic three-dimensional blueprint overlays were used to detect any design conflicts of plumbing, electrical and other systems of the buildings. That helps speed construction time, says Beccaria.
Webcor, which generated $1.5 billion in sales last year and has 400 employees, specializes in high-rise residential and commercial projects.
It has employed up to 350 construction workers on this job, including subcontractors and 60 in-house employees. Now, 200 workers are on-site.
The company supplied the concrete for the complex and is also having custom-designed furniture made for its rooms.
"It's beds, credenzas, chairs, desks, all the things needed by someone bringing only their toothbrush and clothes," said Beccaria.
Mark Larson is a freelance writer for the San Diego Business Journal.