CLEANTECH: TECHNOLOGY, TAX INCENTIVES MAKE GREEN ENERGY MORE AFFORDABLE
S.D. Gains Status as America's Finest Solar City
Monday, July 19, 2010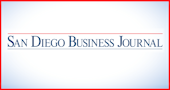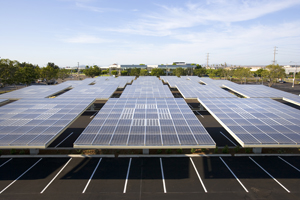 Thanks to dropping costs and more readily available technology, solar panels are becoming an increasingly common sight in San Diego County construction and improvement projects. Prodded by government incentives, long-term energy cost savings and, in the case of office landlords, the need to slash overhead costs amid falling rents, property owners of all kinds are going solar.
By the end of September, the University of San Diego will have rooftop solar panel systems up and running at 11 sites campuswide, which in power-capacity terms will make it the eighth largest university solar set-up in the nation, and the largest among private schools.
In the past year, other institutions and companies, including UC San Diego, Sony and Kyocera, have built or added solar-powered carports in their local parking lots, and several office buildings have come on line featuring solar elements. And national grocery chain Supervalu Inc. recently completed rooftop solar panel systems at three San Diego County Albertsons stores, its first such projects now up and running in California.
Experts note that all of this local activity has helped California rate at or near the top among states for its green-oriented business and construction climate.
For instance, California recently topped all states in a sustainability ranking by Site Selection magazine, a national publication geared to corporate executives who make real estate decisions. Adam Bruns, the magazine's managing editor, noted that San Diego did not rank individually in the publication's list of top 10 metro areas.
LEED Certification
However, he noted that the San Diego region performed well in areas such as incentive policies for green building and energy efficiency, as well as its number of local projects certified under the U.S. Green Building Council's Leadership in Energy and Environmental Design (LEED) program. With 75 completed projects, San Diego ranked 16th in the nation for LEED-certified projects as of May of this year.
"Certainly these factors played into California's No. 1 ranking at the state level," Bruns said via e-mail.
In the solar arena specifically, San Diego is ahead of most California cities. Environment California, a nonprofit environmental advocacy group based in Los Angeles, last year ranked San Diego first on its top 10 list of California cities with the highest number of solar roofs, and the solar capacity of those systems.
Based on data from all California solar photovoltaic rebate programs, the group reported that San Diego as of mid-2009 had 2,267 rooftop systems in place, with a total capacity of 19,452 kilowatts.
Michael Catanzaro, director of sustainability for University of San Diego, said the university was originally in the process of making energy-related construction enhancements to a new student life pavilion, to bring it up to LEED Gold certification, when it decided a campuswide program would bring even greater energy savings in the long run.
It recently entered into a power purchase agreement with Solana Beach-based Amsolar Corp., which will foot the bill to put up a 1.2-megawatt solar panel system – enough to power 1,200 typical homes – consisting of more than 5,000 panels, at 11 sites around campus. In exchange, the university will purchase power from Amsolar for the next 20 to 25 years.
Financial terms for construction and power purchases have not been disclosed, but University of San Diego expects to save 15 to 30 percent on its electricity costs over the term of the contract. Amsolar is laying the infrastructure for the system.
Catanzaro said the installation marks an educational opportunity as much as a business move, since the system will provide students with a lesson on the physics, finances and environmental implications of having such a large alternative-power system in place.
"We felt it was a smart move environmentally, financially and socially," he said. "A big thing is going to be having those power costs fixed for the long term – otherwise it just fluctuates so much."
Much of the stimulus for the latest wave of solar installations is coming from California incentive programs, with budgets totaling more than $3 billion, put in place during 2007 and 2008. The largest is the California Solar Initiative, run by the California Public Utilities Commission, which offers rebates to utility customers based on the size of systems installed.
Another program, the New Solar Homes Partnership of the California Energy Commission, offers incentives to homebuilders and owners, while local utility companies have their own incentives for businesses and consumers.
"The incentives in Southern California have made it attractive on the education and commercial side for the past couple of years," said Joshua Weinstein, managing partner of Amsolar, which deals primarily with educational institutions.
Five-Year ROI
Robert Noble, founder and CEO of San Diego-based Envision Solar, noted that material and installation costs for solar systems has come down dramatically in the past five years, due largely to rising production from a number of global technology manufacturers. Also, the time it takes a building owner to make back the investment on a solar-based system has been cut sharply, from 10 to 15 years down to as little as five years.
"The market is shifting in a significant fashion," said Noble, whose company has done local rooftop and parking lot installations for customers such as Kyocera and UCSD, and clients elsewhere such as Texas-based Dell Computer. "The solar industry has become integrated with the construction industry."
Retailers with large rooftops are also among the businesses that have recently been deploying solar technology. For example, Minnesota-based Supervalu recently began operating solar-powered systems at three San Diego County Albertsons stores – one each in Carlsbad, Oceanside and the unincorporated community of Alpine.
SunEdison financed the rooftop systems, at a cost not disclosed by the parties for a power purchase agreement. Supervalu projects that the three systems combined will produce more than 12 million kilowatt-hours of energy over the next 20 years – enough energy to power more than 1,100 average U.S. homes for a year – and offset more than 13 million pounds of carbon dioxide emissions.
Holly Angell, technology director for Supervalu, which operates more than 90 Albertsons in the San Diego region, said the local installations were done with the help of California incentive programs.
"The locations fit well into our standards for new installations of solar – a newer roof and a certain square footage for the roof," Angell said.
Experts note, however, that solar technology is still not used as much as it could be in smaller properties, such as single-tenant office buildings. That's in part because most technology either requires large arrays spanning big surface areas to be effective at generating sufficient power, or mandates that the user be a large purchaser of electricity to make it feasible for the installer.
That's gradually changing. For instance, Pasadena-based True Generation, which installs renewable energy systems, and its technology providers recently installed a system being tested on a 28,000-square-foot office building in Palm Springs.
Michelle Dowling Schafer, founder and managing partner of True Generation, said the system will eventually be marketed in San Diego County and elsewhere in Southern California. It uses a high-concentration solar panel geared to smaller rooftops, which manufacturer Soliant Energy says generates 50 to 80 percent more electricity than conventional panels.
The cost for a 100-kilowatt array is around $700,000 – about 30 percent of which can be financed via federal tax credits to those who qualify, Schafer said.
Schafer, who previously did work representing building investor clients, said the sheer cost of operating a commercial property is prompting owners and investors to upgrade to solar power systems to help them cut overhead costs like electricity usage, since they often can't raise rents in what is currently a tenant's market for office space, amid rising vacancies.