FINANCE: USING SECOND MORTGAGES AS COLLATERAL NOT AN OPTION TODAY
Observers Foresee SBA Lending Interrupted Unless Congress Breathes Life Into Stimulus
Monday, July 19, 2010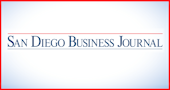 Over the past six months, U.S. Small Business Administration-backed lending by banks got a boost from federal economic stimulus funds with the government agreeing to cover 90 percent of loans approved — up from 75 percent — as a reliable safety net for banks making the loans.
But banks and would-be small business borrowers are now on the sidelines as they await Congress' decision whether to extend the 90 percent coverage through year's end.
Without the easy terms offered by the stimulus funding, 75 to 85 percent of SBA-approved loan amounts are insured by the government.
With those terms, banks face a higher loan risk — 15 to 25 percent — at a time when regulators are frowning on such activity. And borrowers get expensive loan fees, which aren't charged with stimulus-aided loans. So if loan aid ends for the rest of this year, it is expected to all but halt SBA lending.
Ruben Garcia, district director of the Small Business Administration in San Diego, says SBA-backed lending by local banks last year was down about 50 percent. This year, with the help of stimulus funds cutting risk, lending is up 92.7 percent.
"That's a good increase, but it's not to the levels we had three years ago," says Garcia.
From Oct. 1 through May 31 there were 435 SBA-backed loans made in the San Diego region, worth $184 million.
"We have a feeling if it doesn't get redone, those loans in the queue are going to drop off," says Garcia of loan applications qualifying for the affordable terms made possible by SBA stimulus funding.
The 25 Percent Problem
Alan Lane, president and CEO of Silvergate Bank in La Jolla, says there's a good reason banks are reluctant to approve the standard SBA loan, which covers 75 percent of the loan amount. They're largely unable to find collateral to cover the risk of the remaining 25 percent, which is needed if the loan payments suddenly stop for some reason.
"As a lender we're looking for several things," he says. "Does the person have the needed business experience, what are the prospects for the business and its cash flows to service debt, and collateral."
In normal times the collateral on an SBA loan has typically come from a second mortgage on the borrower's primary residence.
But in the wake of the subprime mortgage implosion that nearly toppled the economy, home equity stopped being a reliable form of collateral for lending banks.
"In 2010, what has happened to most borrowers is that they don't have the home equity they thought they had," says Lane. "They may still have the business experience and there may be demand for their business and cash flow. But if the business hiccups, what is the second source of repayment?"
And these days, says Lane, bank regulators want banks to make sure they don't overextend their risk tolerance on new loans. So covering 25 percent of a loan in the current economy is seen as too risky by most lenders.
A lower loan amount can be offered as an alternative, says Lane, but borrowers often need more capital, not less, and aren't ready to pay necessary loan fees. So they back away, willing to wait for more stimulus loan funding to get approved.
Commercial Loans Hit
While would-be start-up business loans often lack needed collateral these days, SBA commercial loans, which are secured by commercial real estate, have also been stifled. The economic slowdown has deflated real estate values of office, retail and industrial buildings.
Silvergate, which only started SBA lending two years ago, made "only a handful" of SBA loans worth a total of $2.5 million since third quarter last year, thanks to the help from the federal stimulus funds, says Lane.
He credits the stimulus funds for making the lending happen. A healthy housing market is the missing component to lending without stimulus funds, he says, and a healthy housing market "could absolutely take awhile."
David Bartram, executive vice president and SBA division manager of Seacoast Commerce Bank in Chula Vista, says despite the current halt of SBA loan stimulus funds, "we're still moving ahead with clients," noting it should be clear soon whether Congress will renew the funding.
The SBA recently ranked Seacoast the top lender to San Diego small businesses for the six-month period ended March 31, for its $48.5 million in approved loans.
A Screeching Halt
While there seems to be no political opposition to that move, Bartram says there's so much upcoming lawmaking activity on Capitol Hill, it may take some time for more loan stimulus funding to be approved.
"If the stimulus goes away, it's certainly going to impact what we can do for our clients," says Bartram. Without it, clients have to pay loan fees up to $54,000 on a $2 million loan.
"Lending will come to a screeching halt," says Bartram, echoing Lane of Silvergate Bank in adding that "clients are going to want to wait."
Bankers in Southern California especially, says Bartram, are working with shortages in capital for lending. Regulators are telling them to increase their capital to cover any new loans or shrink their portfolios so they can safely cover the loans they've made.
And that has convinced most banks to shy away from the typical risk of new loans, says Bartram, noting that's why stimulus-bolstered SBA loans have been such a big hit with banks.
Having to cover only 10 percent of a loan, "You don't have to grow your balance sheet," he says. "At 25 percent, some lenders are saying it doesn't make sense for them."
But the stimulus-aided SBA lending has shown it works as intended, says Bartram.
"To extend it for the rest of the year would cost $505 million to generate $14 billion in loans," he says. "That's a huge impact."
Mark Larson is a freelance writer for the San Diego Business Journal.