Report Says Petco Park Delivers 7.6 Percent Return on Investment
Wednesday, July 14, 2010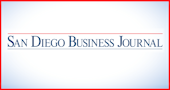 Development of downtown San Diego's Petco Park has brought a 7.6 percent annual rate of return on the community's original $300 million investment over the past 10 years, according to a consultant's report released July 14.
The report by Minnesota-based Conventions, Sports & Leisure, commissioned by the San Diego Regional Economic Development Corp., says the stadium and surrounding development has surpassed the initial projected annual return of 1.7 percent.
Report author Bill Rhoda of the consulting firm, which goes by CSL for short, presented findings at a downtown news conference July 14.
Rhoda said the ballpark and surrounding 26-block ballpark district, from 2000 to 2009, generated more than $207 million in net new tax revenue, including sales, property and transient occupancy taxes.
There was more than $1.2 billion in net new spending by visitors during that period, and the stadium's presence also created 19,220 jobs and payrolls surpassing $783 million, according to CSL.
Cumulatively, more than $1.8 billion has been invested in the construction of Petco Park and surrounding developments during the past decade. About $1.58 billion, or 84 percent, was private dollars.
Petco Park, which opened in 2004, was built through a partnership of the city, its downtown redevelopment agency and Major League Baseball's San Diego Padres. Development of the stadium and the adjacent ballpark district followed voters' approval of Proposition C — which called for public funding of the ballpark — in November 1998.
However, initial construction was held up by legal challenges to the project.
— Lou Hirsh