SOFTWARE: ESET'S COMPUTER SECURITY PRODUCTS PUT COMPANY ON THE FAST TRACK
Virus's Worst Nightmare
Monday, July 12, 2010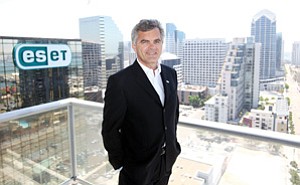 Small company, plenty of heart.
Heart seems to be the factor that has driven ESET LLC, and let it hold its own in the field of computer security.
In the company's early days, a prospective customer asked Chief Executive Officer Anton Zajac about ESET's quality assurance process. "I will send you a manual by e-mail," Zajac recalled saying.
The problem was that there was no manual. At least not yet.
"I spent the entire night working on the manual. I sent it the next morning," Zajac said with a mischievous grin. "They liked the manual."
Today, ESET has quality certification through the ISO, aka the International Organization for Standardization, a widely recognized network of standards-setting bodies from 162 nations.
Established locally in 1999, ESET makes anti-virus software and related products. Its product routes malicious software toward a secure, virtual world where it can do what its makers intended without harming the computer, which would have otherwise become infected.
Revenues Rising
Its rivals include giants such as Symantec Corp., which has yearly revenue approaching $6 billion. ESET is an upstart, with $200 million in global revenue during 2009, with $127 million from the United States.
For the first six months of 2010, the company is 33 percent ahead of 2009, Zajac reports.
ESET ranks as the county's sixth fastest-growing private company in the San Diego Business Journal's 2010 Book of Lists. It accomplished the feat by growing from $34 million in 2006 revenue to $111.4 million in 2008 — an increase of 228 percent.
The firm has evolved from a home-based business in Coronado to a tenant on the top four floors of a downtown high-rise. Zajac's office gives him a bird's eye view of San Diego Bay. He has 180 local employees, up from 109 on July 1, 2009. Worldwide employment is 500.
Eastern European Roots
Zajac is from Slovakia, where ESET has its European headquarters. His father was a professor at a technical university.
During the days when the Iron Curtain still divided Europe, the younger Zajac was able to leave his country for a time by pursuing graduate studies in Tijuana. He arranged travel through Los Angeles International Airport and was able to get a visa to visit the United States.
He was particularly struck by seeing the islandlike village of Coronado for the first time. "One day I will live in Coronado," he told himself.
It wasn't the first time Zajac got something by setting his mind to it. And eventually he got a teaching job at USD, aka the University of San Diego.
In the late 1990s, Zajac founded two companies. One created software to predict superconducting materials. At the same time, he was working on the computer security project that was to become ESET. Zajac ended up selling the former company and focusing exclusively on the latter.
Alert for Opportunities
An early project with Dell required ESET to provide its software in three languages: English, Japanese and Chinese. ESET had no Asian partner, but at a technology conference in 2002, Zajac encountered two representatives of a Japanese company. Their discussion led to a dinner, which led to a partnership. Not long after, Canon Inc. acquired the Japanese firm.
"It was a huge thing for ESET," Zajac said. "What better references can you ask for?"
"You can miss many opportunities. You can create many opportunities," Zajac said. "Success is hidden in our ability to create opportunities."
Zajac saw opportunity when Microsoft's Bill Gates had a speaking engagement in Slovakia. "Today I will shake hands with Bill Gates," he told a government leader there. "Will you take a picture?"
"You can't," said his friend, pointing out the amount of security around Gates. The remark only spurred Zajac to try harder.
Gates offered to take questions at the end of his speech. Zajac was prepared with two. One was an elaborately crafted question about the interplay of Microsoft products and malicious code. "And I have a private question," Zajac said. "May I shake your hand?"
Zajac's friend got the photo of the handshake. The CEO prepared a transcript of his conversation with Gates. Then he arranged for it to be distributed to the media. He didn't just surprise his friend. He floored his Chicago publicist.
As a marketer, executive, technician and academic, Zajac seems to move easily among different worlds. He is multilingual, speaking Slovak and Czech, Russian, English, Spanish and "a little Italian," says his chief of staff, Rita Pertzborn. He is also very good at the language of mathematics, theories and algorithms.
The chief executive is intuitive about people, adds Pertzborn, who has overseen human resources for the company during its recent growth phase. She says she wonders if Zajac's sense of reading people is somehow related to his mathematical sense.
Preparing for a Climb
Zajac maintains that one can compete successfully against a large company if you are ready to work hard, have really good technology and work systematically. "It's about quality, dedication and focus," he said.
In the community, ESET has been a driving force behind Securing Our eCity. The program aims to thwart cybercrime and promote good security habits — since there are many ways computer users can compromise their own safety that anti-virus software can't stop.
ESET sponsors more than a dozen groups on either side of the U.S.-Mexico border, including the robotics club at Hilltop High School in Chula Vista.
The company has also thrown its support behind Steve Wampler, the Coronado resident who wants to be the first person with cerebral palsy to climb the face of El Capitan in Yosemite National Park. Wampler plans to try the climb, expected to take six days, in September.
"The idea of a disabled person climbing El Capitan is totally inspirational," Zajac said.
"The idea of beating destiny is great. I love it."