CLEANTECH: ACADEMIC TEAM EXPLORES HOLY GRAIL OF ENERGY PRODUCTION
SDSU Professor Seeks to Develop Hydrogen Catalyst
Monday, July 12, 2010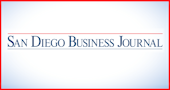 Hydrogen Fuel Research
Lead researcher: Douglas Grotjahn, SDSU chemistry professor.
Description of research project: Building chemical catalysts to produce hydrogen directly from water and sunlight. The goal is to commercialize the process to power hydrogen fuel cells as a green, low-cost energy generator.
Funding: $50,000 award from the Clean Tech Innovation and Commercialization Program.
Program sponsors: Sempra Energy Foundation and the Kaplan Family Trust. Other sponsors are Ewing Marion Kauffman Foundation and Knobbe Martens Olson & Bear LLP.
Finding a way to take clean technology from the research lab to a job-generating business is the goal of the San Diego partnership Clean Tech Innovation and Commercialization Program.
The partnership is made up of the city of San Diego, UC San Diego's William J. von Liebig Center for Entrepreneurism and Technology, San Diego State University, Clean Tech San Diego and UCSD's Sustainable Solutions Institute. The partnership recently awarded grants of $50,000 apiece to three projects selected from among 13 proposals.
Among the winners was a project led by SDSU chemistry professor Douglas Grotjahn and his team of four graduate students. Their research seeks to use chemical catalysts to create hydrogen from water to power fuel cells. Such a breakthrough would be a revolutionary, green path to generating electricity, the process of which has traditionally generated pollutants from the burning of fossil fuels.
Grotjahn's research will be funded in the amount of $50,000 from the partnership program during the next year if it meets all project progress milestones. And if all goes well, a year from now, Grotjahn's hydrogen production goals will be a step closer to commercialization.
"There are several parts to making hydrogen from water and sunlight," said Grotjahn. "One of those parts is removing oxygen from water. That is hard, but we have some catalysts that do that."
He's been working on commercializing catalyst functions for the past 10 years, with this particular application focused on the problem of producing hydrogen as a clean energy fuel.
Hydrogen-Powered Homes
Producing hydrogen on a large-scale basis would require a manufacturing plant and a pipeline system to distribute it to users. That is an expensive infrastructure problem, says Grotjahn, because such a pipeline network does not now exist and would have to be built.
Grotjahn therefore thinks hydrogen fuel production might initially work better in a commercial application on a small scale, tailored for in-home use enabling homeowners to produce their own energy.
"A rooftop unit taking up 300 to 400 square feet could conceivably make enough hydrogen to make electricity in a home," said Grotjahn. "I think that would be a great start."
If he can reliably produce a hydrogen-from-water catalyst, Grotjahn says it could be licensed to generate revenue. But he's quick to point out that there's a long road ahead.
"I'm a realist," said Grotjahn. "We'd like to be further along. But you have to start somewhere."
He says metals are used to make chemical catalysts. But the challenge is to find a readily available and relatively inexpensive metal that will work. "Even if a super-duper catalyst is made out of platinum, there's not a lot of platinum to do the job," said Grotjahn.
Jacques Chirazi, the clean-tech manager for San Diego Mayor Jerry Sanders, says this program is an attempt to fund an area — innovative scientific research with no clearly defined path to the marketplace — that typically lacks funding.
"Venture capitalists refer to that space as the Valley of Death," said Chirazi. "There's no money going into it. We're hoping to nurture ideas early on so investors feel (the projects) can stay in San Diego and commercialize." Best-case scenario, he adds, would be the research converting into brisk enough revenue production to fuel a strong startup company that brings well-paid new jobs into the local economy.
Benefits of Technology Transfer
If Grotjahn's project becomes a commercial success, says Chirazi, it can be a transformative boost to the clean energy industry. Grotjahn's research, notes Chirazi, uses biology and nanotechnology. Those are two leading-edge areas of research that are seen with the potential to blast through current limits on microprocessing power in supercomputing and other areas.
Now, says Chirazi, there are around 360 companies in San Diego in the clean-tech space, supported by another 300 supplier companies. "Hopefully, if we fast forward 10 years it will be big, if not bigger than biotech."
Rosibel Ochoa, director of the von Liebig Center at UCSD's Jacobs School of Engineering, also notes the lack of funding for early stage technology development, and the efforts of the local program to plug the gap, while providing guidance for shaping strong research into a profitable company.
Over the years, the center has found such funding to be a risky proposition, says Ochoa.
"We've funded 70 projects," she says, for a total of $4 million over the past eight years. "For every 10 projects we fund, three get transferred to (the sales stage of) licensing."
Still, any successes derived from early stage nurturing have a chance to boost economic development.
"It's very difficult to translate academic discoveries to the market for job creation," she said. But the fight to do so is for a very good reason.
"The more tech we can transfer, the greater the potential for one of those to become the next Google, or the next Cisco in green-tech as a job generator for the country."
Mark Larson is a freelance writer for the San Diego Business Journal.