DEFENSE: GLOBAL HAWK TO REFUEL GLOBAL HAWK IN DARPA FUNDED TEST
Northrop Prepares First Unmanned Aerial Tanker
Monday, July 12, 2010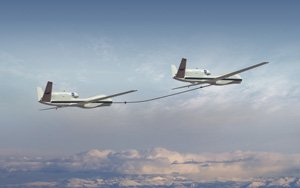 Having one aircraft refuel another in midair is not a new concept. It goes back to the biplane era.
San Diego engineers, however, plan to put a modern spin on aerial refueling by trying the feat with two robot aircraft.
The Defense Advanced Research Projects Agency, aka DARPA, will spend $33.3 million to accomplish the world's first drone-to-drone refueling with the help of Northrop Grumman's San Diego work force. The Pentagon awarded the two-year contract to Northrop on June 30.
Northrop plans to retrofit two of the Global Hawk aircraft it manufactured to perform the task. The Pentagon is calling the refueling aircraft the KQ-X.
The bulk of the work will be done at Northrop Grumman's Unmanned Systems Development Center in Rancho Bernardo. Major subcontractors on the project will be SNC, also known as Sierra Nevada Corp., and the Sargent Fletcher Inc. subsidiary of Cobham PLC.
Test flights are set for mid-2011 at Edwards Air Force Base in the California desert.
Attempting Several Firsts
The military uses several types of connections for refueling. The KQ-X will use the hose and drogue system. The refueling will be completely robotic, Northrop said.
The experiment, if successful, will mark a couple of other firsts. Global Hawks are built to fly at altitudes of 60,000 feet or greater. Northrop did not specify the altitude at which it planned to do the refueling, but it did say it will be higher than conventional aircraft refueling. It will be the first time high-altitude, long-endurance drones have flown in formation.
Today's military aircraft depends on aerial refueling, said Jim McCormick, DARPA program manager for the KQ-X, in a prepared statement. The experiment may give future unmanned aircraft the same type of advantage, he said.
The ability of an aircraft to rendezvous with a tanker and take on fuel in flight gives an aircraft — whether it's a fighter, bomber or a spy plane — a greater range and the ability to stay aloft longer.
'Another Step' in UAV Evolution
The contract does not appear to be an end in itself, but an intermediate step in the development of unmanned aerial vehicles, or UAVs.
The DARPA deal "seems to be an evolution toward larger and larger UAVs and broader missions," said Scott Hamilton, principal with market intelligence firm Leeham Cos. LLC in Issaquah, Wash.
"We are moving from traditional roles of surveillance, reconnaissance, intelligence and surgical strikes to the prospect of larger aircraft that are unmanned. The Navy has been experimenting with the prospect of an unmanned fighter for aircraft carriers. The prospect of an unmanned aerial tanker is another step," Hamilton said.
"It would not surprise me at all to see these types of operational aircraft within 10 years."
Lessons from the experiment may have a side benefit. They may help reduce pilot workload, said Carl Johnson, vice president for advanced concepts at Northrop Grumman Aerospace Systems, in a prepared statement.