Ground Breaking: Mesa College Design Center
Monday, July 12, 2010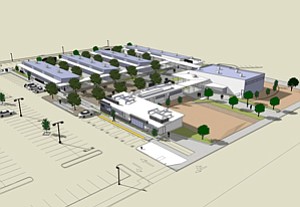 Project description: The project consists of renovations to six existing single-story buildings that were formerly used as an elementary school. The buildings will be renovated to function as the Mesa College Design Center, which will house classrooms, labs, faculty offices and support spaces for Mesa College's architecture, landscape architecture, building construction technology and interior design programs.
Interesting facets: The existing six buildings comprise a total of approximately 25,000 square feet, and the renovations include exterior landscaping and paving, interior and exterior finishes, ceilings and lighting, upgrades to the existing mechanical, electrical and plumbing systems, upgrades to the existing fire alarm and security systems, and interior and exterior signage. Renovations maximize both daylight and views to the outside, increasing user comfort and productivity, and reducing the need for artificial light. Trees and shrubs have been selected for their compatibility with the area, to provide shade and to minimize the need for water. A high-efficiency irrigation system utilizes a controller that adjusts itself to local weather, resulting in significant water savings. At least 75 percent of construction waste will be diverted from local landfills.
Developer: NA.
Financing: Proposition S.
Designers: Architects Delawie Wilkes Rodrigues Barker.
General contractor: Nielsen Construction.
Major subcontractors: Architects Delawie Wilkes Rodrigues Barker, architect; Nielsen Construction, construction manager; Hope Engineering, structural engineer; RBF Consulting, civil engineer; Gafcon Inc., program manager.
Start date: May.
Completion date: October.
Construction cost: $3.2 million.
Project cost: $5.3 million.
Square footage: 25,000.
Tenants signed to date: NA.
Leasing agent: NA.