DEFENSE: M SHIP INNOVATES TO DELIVER FASTER, BETTER, CHEAPER SHIP DESIGNS FOR NAVIES WORLDWIDE
Stiletto Ship
Monday, July 5, 2010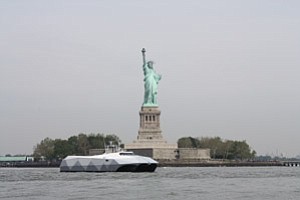 What does M Ship Co. do for an encore?
The San Diego-based company designed the M80 Stiletto, a small, experimental Navy ship that continues to turn heads. The ship created a buzz in June as it made appearances in New York and Rhode Island.
Key to the ship's design is the San Diego firm's patented M-shaped hull, built for stability at speeds exceeding 50 knots.
Stiletto, however, was a 2006 project. How does one take the business beyond 2010?
M Ship is not resting on its past work. Executive Director Bill Burns and primary investor Chuck Robinson are taking a diverse approach. Their plan is to:
• Work to get business overseas. M Ship has linked up with an engineering firm in India to create work boats, and maybe military boats, for Asian and North American markets.
• Test hull models. M Ship has a $2 million deal to test six to eight hull shapes for the military. The one-year deal, which started in May, uses a process the firm calls Rapid Empirical Innovation, or REI. The testing process is different from working with a model in a traditional tow tank, Burns said.
• Wait for the recreational boating market to return. It may take five years to come back with any strength, Burns said.
• Explore opportunities for remote-control, water-borne vehicles with the military.
• And remind the military establishment that you're there and waiting to take orders.
A few months ago, M Ship bought advertising in the trade publication Defense News showing an armada of Stiletto boats on one side of a page and one of the Navy's newest shallow-water vessels, the littoral combat ship, on the other. The legend reads "Get 25 Stilettos for the price of one LCS."
'Think Small'
Some may view the comparison as apples and oranges, but the ad taps into the mood of the times.
The federal government is talking about cutting its budgets, and the littoral combat ship project has substantially exceeded its original budget. There are two versions of the ship, one each built by General Dynamics Corp. and Lockheed Martin Corp. The Navy plans to choose its preferred model this summer.
The two littoral combat ship designs are fast and relatively small, but they are really oceangoing vessels, professor and author Milan Vego noted in a 2008 article. The two designs displace roughly 3,000 tons apiece, and need 20-foot-deep water to operate. One is made of steel, the other aluminum.
Swarms of small enemy craft, opponents in suicide boats and shallow waters such as the straits of the Middle East call for something different, Vego says. Vego lays out the case for launching a fleet of craft much smaller than the littoral combat ship in an essay titled "Think Small" in the July 2008 issue of Armed Forces Journal.
The Stiletto displaces 45 tons, operates in 3 feet of water, and is made of carbon fiber. It costs $6 million.
Smooth Ride, High Speed
M Ship is a veteran-owned small business with 12 employees. The company's original business plan was to build light-stepping ferry boats for work in Venice, Italy. The concern there was to suppress waves that could damage canals and the city's built environment.
That led to the patented M hull design. The Navy's Stiletto prototype is built on two M hulls placed side-by-side. National City-based Knight & Carver Yacht Center built the 88-foot-long Stiletto.
The M hull offers a smooth ride at speed. Such technology may better deliver SEALS or similar special operations forces to their targets. Small, speedy boats that transport commandoes often have very hard rides, Burns says, adding that commandoes can't choose the kind of weather they go out in.
The Navy has also used the Stiletto to intercept drug runners.
But M Ship's leaders are not looking to Stiletto to pay all the bills.
"There is so much opportunity overseas now," Burns says. "We decided to take the leap."
M Ship is now doing some preliminary work with Allen Reinforced Plastics of Hyderabad, India, seeing if its potential partner can build boats of fiberglass and related materials. Overseas production will cut a project's cost in half, Burns says.
M Ship is thinking of marketing a 30-foot patrol boat to Asian military clients.
For the Pentagon, M Ship is looking ahead to an unmanned floating drone. "We're excited about using a Stiletto-like platform with unmanned systems for the future Navy," Burns said.