INFRASTRUCTURE: CAPITAL SPENDING ON PORT OF ENTRY PROJECTS CALLED 'UNPRECEDENTED'
Border Crossing Upgrades Expected to Cost $700M
Monday, July 5, 2010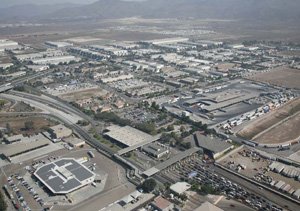 Work is moving forward on long-awaited improvements to the U.S.-Mexico border entry ports in southern San Diego County — expected to cost a total of nearly $700 million by the time they're completed.
Officials say improving the heavily congested land ports of entry near the Mexican border, located at Otay Mesa and San Ysidro, is crucial to trim wait times at crossings — sometimes lasting up to two hours — which are impacting the quality of life for commuters, and choking off potential future economic growth for the region.
Design work is proceeding on the Otay Mesa Land Port of Entry, which authorities say handles the highest dollar volume of trade among all U.S. land ports, expected to cost between $100 million and $120 million. A completion timeline is still to be determined, though construction is expected to start in 2012.
To the west at the San Ysidro Land Port of Entry, the world's busiest land port by traffic volume, construction began in December on what will be around $577 million in improvements over three phases, set for completion by 2015.
Improvements at both ports include adding entry and exit lanes, expanding inspection facilities, redirecting traffic to quicken overall vehicle flow, and adding pedestrian-friendly walkways and services.
Balancing Security and Commerce
At a June 30 forum in Otay Mesa, presented by the Otay Mesa Chamber of Commerce and the San Diego Customs Brokers Association, authorities overseeing the port projects said improvements are in progress that will balance the need to ease the flow of vehicles and manufactured goods, while maintaining enhanced federal security standards being enforced to guard against terrorist attacks.
Paul Morris, director of field operations for the U.S. Customs and Border Protection agency, said inspection operations at the local ports will have undergone "a 180-degree change" by the time improvements are completed.
He said customs and homeland security officials are "continuing to obtain the backing of Congress" for improvements at U.S. land ports, and there is currently "unprecedented capital spending" being focused on the Otay Mesa and San Ysidro sites.
For instance, changes will add 10 acres to the Otay Mesa port and increase the size of facilities by 200,000 square feet. Putting various border regulatory agencies under one roof will speed enforcement actions, Morris said.
Authorities said at the forum that the pace of improvements going forward will depend on funding becoming available, though some work is already being financed through federal stimulus programs geared to infrastructure projects.
David Leites, project manager with the U.S. General Services Administration who is involved with the Otay Mesa port project, said green building practices are also being incorporated into the port improvements.
Operations are also being reconfigured to streamline the way hazardous cargo is inspected, to avoid delays now being caused to vehicles not carrying such cargo.
Anthony Kleppe, an asset manager with the GSA involved with the San Ysidro port expansion, said that port will include a pedestrian plaza that allows safer access to public transit from the border area.
Semis, Sedans and Folks on Foot
According to federal data, the Otay Mesa port handles an average of 16,440 passenger vehicles and 2,044 trucks daily, along with 3,741 pedestrians. San Ysidro handles more than 50,000 vehicles and 25,000 pedestrians daily.
Much of the current port traffic stems from goods being transported between factories and distribution hubs located on both sides of the border, as well as commuters who work at companies on both sides.
However, regional planners and business leaders contend that improving port entry access and easing commutes has implications well beyond trucking and manufacturing.
A 2008 study conducted by researchers at UC San Diego's Export Access program, for the San Diego Regional Chamber of Commerce, noted that facilitating commutes across the border will have direct positive effects for San Diego County businesses, by expanding the available labor pool and increasing productivity.
Over the next 10 years, researchers said, that would mean economic gains to employers in several sectors, including manufacturing ($76.2 million), agriculture and landscaping ($56.9 million), construction ($41.4 million), auto repair ($33.6 million) and hotel service ($30.5 million).
By lowering border wait times and increasing the number of cross-border trips, the study concluded, there would likely be an increase in local spending by visitors over the next decade — 57 percent for retail, 30 percent for food and restaurants, 8 percent for recreation-related businesses, and 4 percent for hotels.
A 2006 impact study by the San Diego Association of Governments noted that nearly 730,000 trucks travel north across the San Diego County/Baja California ports of entry from Mexico annually, with a similar number crossing southbound.
Also, more than 60 million people, including drivers and pedestrians, cross the border each year, with more than half of the trips for shopping and recreation, and about one-sixth related to commutes to and from work.
Sandag concluded that if steps are not taken to improve border crossing and transportation infrastructure and management, border delays will keep growing and losses incurred by regional and national economies will more than double in the next decade.
The annual economic output loss would be $9.9 billion for San Diego County and Baja California by 2014, and 104,146 jobs could be lost by then because of crossing delays.