SPORTS BUSINESS: CONNECT TEAMS WITH BILL WALTON, ESTABLISHES NEW TRADE ORGANIZATION IN SUPPORT OF LOCAL SPORTS AND ENTERTAINMENT INDUSTRY
Slam-Dunk
Monday, January 25, 2010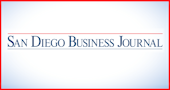 For former NBA star Bill Walton, combining passion with profits in the sports industry is the best of both worlds. So, it was a natural for the San Diego native to take the helm of a new organization designed to give local sports and entertainment companies a serious boost.
As executive chairman of San Diego trade group CONNECT's Sports & Entertainment Innovators organization, Walton will lead local efforts to strengthen and accelerate the growth of San Diego's startup and growth-stage entertainment and sports-related companies through entrepreneur educational programs, business mentoring and access to capital. The program will connect entrepreneurs with the local research community and advanced materials and solutions to make entertainment and sports products more competitive, greener and safer.

The business accelerator also facilitates licensing, merger and acquisition and strategic partnership opportunities for innovation-stage companies by connecting them with major industry players.
Walton said San Diego is a perfect venue to support the untapped sports and entertainment industry, which includes everything from surf and skateboard apparel and products to sports teams and companies that cater to professional and amateur athletes. The region, which even has its own Olympic Training Center, is home to a kaleidoscope of professional athletes, including surfers, skateboarders, wake boarders, triathletes, soccer players, football players and motocross champions.
"Sports and entertainment is what defines us in Southern California," said Walton. "It's who we are as a people and as a culture.
"We are going to nurture our local sports and entertainment companies and do whatever we can to provide the assistance they need," he added. "We want to make sure that this segment of the economy can maximize its potential. We want to help our region grow by building these businesses."
Open Door Philosophy
Walton said the new program will not only focus on sports and entertainment startups but also on more established, mature companies in the industry.
"There are constant issues that every business faces, and we will do whatever it takes to make sure that every company in our region and in our cluster can thrive and achieve its goals with the least amount of resistance possible," he said. "It takes a team effort, vision, and creativity to overcome the obstacles that pop up on a daily basis in business."
The new program is an extension of CONNECT's Sports Innovators organization, which was launched in 2007. CONNECT, a San Diego-based nonprofit business accelerator, is best known for its success in creating, supporting and growing the region's high-tech, life sciences and clean-technology clusters. CONNECT, founded in 1985 at UC San Diego and developed into an independent nonprofit organization, has had much success with its CEO Strategy Forum and its flagship program, Springboard.
Springboard offers free guidance and development to life sciences, clean-tech, high-tech and consumer product companies in all stages of development, ranging from concept, technology transfer to startup, to companies that have reached a significant inflection point. Innovators are matched with Entrepreneurs in Residence with related domain expertise and experience in raising capital and/or growing companies. After receiving mentoring from Springboard, these companies have doubled their hiring of full-time staff and boosted their part-time workers by 250 percent, according to CONNECT.
"The ability to dream, create and build companies and implement new technologies is what CONNECT is all about," Walton said. "(CONNECT CEO) Duane Roth and his team have an impeccable track record and have had fabulous success. I am honored, privileged, lucky and humbled to be a part of that team."
Security Business Bank and the law firm Sheppard Mullin are the two initial founding investors for Sports & Entertainment Innovators. Walton said he plans to raise enough funds, an unspecified amount, to make the organization independent within a year. "We will do whatever it takes to get this important job done," he said.
High-Profile Leadership
If Sports & Entertainment Innovators is expected to grow into an independent trade organization that can provide assistance to San Diego's entire action, sports and team sports community, it needs focused, high-profile leadership, said Camille Sobrian, CONNECT's chief operating officer.

"Bill Walton has a thorough understanding of the sports industry from his experience as a Hall of Fame NBA all-star and award-winning TV sports commentator," she said. "He has the relationships and name recognition to mobilize community and industry support quickly around this innovative effort."
Sports enterprises are among the largest business clusters in the region, boasting more than 600 sports-related companies, according to CONNECT. That's compared to 600 life sciences companies, 1,000 information technology and software firms, 300 defense companies and about 250 energy and environment-related companies in San Diego County.
"The sports and entertainment industry is a major economic force in San Diego, but unlike the defense, high-tech and life sciences industries, there are no organizations to support entrepreneurs in these growing companies," Sobrian said. "San Diego is the center of innovation in action sports like surfing and skateboarding. All the trends start here. The entire industry looks to Southern California to define style and technology. If we are to retain our leadership position in an increasingly challenging economic environment we need to support this important business cluster."
Sports & Entertainment Innovators will also educate entrepreneurs and business owners about "green" products and technologies and how they can become more eco-friendly.
"Many sports that depend on the environment are actually anything but green," Sobrian said. "So finding ways to save water and energy and create products that don't harm workers or the environment will be an important part of this organization."
Leading The Green Revolution
Sobrian did point to a handful of sports-related companies that are helping lead the green revolution in this industry, such as San Diego-based Malama Composites LLC, which makes "green foam" for surfboard blanks, among other environmentally friendly composite materials. While action sports industries such as surfing and skateboarding are beginning to make smaller carbon footprints on the Earth, they continue to make a big economic impact.
In fact, the surf/skate industry has shown notable resiliency during recent global economic challenges, posting U.S. retail sales of $7.22 billion in 2008, according to the Surf Industry Manufacturers Association, aka SIMA. Although that was down slightly from 2006 ($7.48 billion), the surf industry has shown substantial growth of 10 percent for the past five years, according to SIMA.
While many companies in this industry have found success, there are still companies arriving at strategic crossroads in their business and are faced with challenging decisions ranging from distribution to human resources and cash flow. So says Chad DiNenna, co-founder and director of marketing for Encinitas-based Nixon Inc.
"There are a myriad of challenges companies have in every business," said DiNenna, who co-founded the apparel and accessories company in 1997 with friend and Stanford M.B.A. graduate Andy Laats. "There is a wealth of successful business leaders here in San Diego who are willing to apply their lessons learned to a niche market like action sports. That's why it's cool to have an organization like Sports & Entertainment Innovators. It's a formal way to connect our industry to the San Diego business community."
DiNenna and Laats had their first experience with Sports & Entertainment Innovators during its beginning stages as CONNECT SI. They were invited to a dinner meeting to talk about the success of Nixon and to educate investors and the business community at large about "surfer" CEOs.
"I explained they should not think of us as a bunch of surfer kids and beach bums who aren't serious about building a global brand that is highly successful," DiNenna said.
Dose Of Business Sense
But that's not to say that companies in this very tight-knit, "casual" industry don't need more business sense.
"A lot of the powerhouse brands of today in the action sports industry were founded by professional surfers or skateboarders who grew up in the industry," DiNenna said. "Ten years ago it was uncommon to find people who had M.B.A.s who were running these businesses. There was a pretty big disconnect between big business and niche youth sports culture."
Now with CONNECT's Sports & Entertainment Innovators, action sports brands have a platform of experienced business professionals as a sounding board to help them solve the challenges of growing businesses.
The big boys are now definitely paying attention to this untapped market, he said.
"Three years ago skateboarding surpassed baseball as the leading sport for young adults," he said. "There are a lot of bean counters who are paying attention to what's happening and they recognize there are a lot of opportunities in this industry."
Brian Enge, general manager of Vista-based Zoot Sports, can attest to that.
In 2007, Enge presented his company to a room full of business leaders, capital providers and like-minded entrepreneurs during one of the first CONNECT SI meetings.
For the past 25 years, Zoot Sports, which was sold in January 2009 to K2 Sports (owned by Jarden Corp.), has made and sold training and racing products for triathletes, including footwear, apparel, wet suits and accessories.
Cash And Mentorship
Enge said there are two things an entrepreneurial sporting goods company needs — cash and mentorship.
"They need cash because they are mainly inventory-based businesses," said Enge, who sits on the Sports & Entertainment Innovators board. "When you grow, it gobbles up cash. The mentorship is important because most of these businesses are run by passion-based inventors who don't have a strong foundation of business skills that will allow them to succeed. What CONNECT does an amazing job at is taking these guys who have a passion, and through programs like Springboard, help turn these passionate ideas into successful business plans.
"The biggest problem for young sporting goods companies is they have more passion than business experience or skills," Enge added. "Too often, these companies become mismanaged or they run out of cash."

Traditionally, venture capitalists have shied away from action sports and sporting goods companies, which are mainly funded by larger companies. Last year, CONNECT's Sports Innovator program tried to help boost funding for local companies by holding the industry's first capital forum. Out of 50 applicants, CONNECT chose six companies to be mentored.
"The largest capital role in the action sports industry has been played by the generation of people who have recently cashed out," said Marco Thompson, founding director of CONNECT's Sports Innovators program and now a board member of the new organization. "If you want to see interesting things happening, look at the guys who just made $100 million or more by selling their brand to a larger company. Now they are in their garage working with their friends on two to five new projects that are on their way over the next five years to becoming significant Southern California startup companies. That cash is being recycled.
"CONNECT can help these companies by providing networking opportunities and connecting those who have had success in this industry with new entrepreneurs," added Thompson, also vice chair of CONNECT and managing director of Express Ventures.
Innovation is also the lifeblood of the sports and entertainment industry, Thompson said. That's why San Diego is the perfect place to breed such a pioneering industry.
"When I started this program inside of CONNECT there were a number of board members who said, 'What's innovative about a T-shirt company?' At the end of the day there are huge innovations going on in many of these companies with respect to the materials being used. For example, we have Malama Composites and local skateboard companies like Flexdex LLC that are working with modern and green composite materials. There is a vibrant group of companies that are building helmets with Bluetooth communications in them, and companies that are making quick-dry materials for board shorts, and socks made out of bamboo. We have seen and will continue to see so many innovative things in this industry."
Andrea Siedsma is a freelance writer for the Business Journal.