MANUFACTURING: SALES SOAR AT MAXWELL TECHNOLOGIES
Firm's Energy Storage Devices Keep Going and Going
Monday, January 25, 2010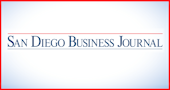 Nothing lasts forever, but the folks at Maxwell Technologies Inc. might argue otherwise.
The San Diego company makes an energy storage device called an ultracapacitor that may have an infinite life span, says its top promoters.
"You can charge and discharge an ultracapacitor billions of times, and it doesn't run out," said David Schramm, Maxwell's chief executive. "If you don't abuse it, it can theoretically last forever."
The device that comes in many cell sizes and shapes has been around for many years, but it's been only in recent years that the gizmos have been incorporated into wider commercial uses such as windmills, hybrid buses and trucks, electric rail vehicles and factory machinery.
Ultracapacitors are energy storage devices that release all their power in a sudden burst, as opposed to a battery that takes much longer to deliver the same power. The downside is the devices don't store the power very long, as batteries do.
The capacitors also don't generate energy as batteries do, through internal chemical reactions; they only store and release it.
Demand Grows
But it's that ability to deliver massive power surges and perform the same over and over again, and in extreme temperatures where regular batteries fail, that is creating higher demand for the products.
Maxwell said Jan. 13 that it delivered its 1 millionth large cell ultracapacitor in December, clear evidence that the product is gaining ground, and swamping its competitors.
"We're so far ahead of them (Maxwell's four major competitors), it's not even close," said Schramm, whose company's main competitor is Japan's Panasonic Corp.
The shift toward making more fuel efficient vehicles and the use of wind and solar power is also helping provide plenty of wind to Maxwell's sales.
Giant windmills (some looming as large as 500 feet) used mainly in Europe and China are big users of capacitors because of the greater efficiencies and resiliency compared with batteries. The products are also becoming more prevalent in solar panel systems where extreme heat and cold prevent the use of most batteries.
Driving Ahead
But it's the current use in vehicles that gets Schramm really excited. Since 2002, Maxwell has been a supplier to ISE Corp., a Poway manufacturer of gasoline/electric hybrid drive systems. The ultracapacitors incorporated into these drive systems play a major role in the braking and acceleration of large buses and trucks, storing greater amounts of electric power for the short burst until the vehicle shifts over to more even power from gasoline.
Maxwell says its large Boostcap ultracapacitors are now in ISE hybrid drive systems found in some 300 mass transit buses in this country. In April, it received an order for capacitors to be included in some 850 diesel electric hybrid buses in China.
"China is a big user of hybrid transit and trucks, but our largest market is still in North America," said Carolyn Paynton, ISE's marketing director. Three of ISE's hybrid drive systems are being tested by the New York City Sanitation Department for possible use for its fleet.
"It's only a matter of time before all the buses in this country will be using some form of hybrid systems," she said.
In the past three years, Maxwell's sales have been growing by double digits, with the sales of ultracapacitors propelling most of that growth. From about $57 million in 2007, Maxwell had $82 million in revenue in 2008. Through the end of the third quarter, revenue was $73 million, and will exceed $100 million when the company reports its year-end results next month, Schramm says.
Of that, capacitor revenue went from $17 million in 2007 to about $40 million last year.
Over three years from 2006, Maxwell has lost $16.5 million, $15.7 million, and $14.8 million. Through the end of September, it reported a net loss of $13 million. Schramm says that should be remedied soon as Maxwell, founded in 1965, continues to cut its costs and improve sales.
On The Right Track
Several stock analysts agree that Maxwell's stock, traded under MXWL on Nasdaq, should continue to rise this year. Dilip Warrier, with Thomas Weisel Partners LLC in San Francisco, stated in his November report that Maxwell had two consecutive quarters of positive cash flow, and was on track for the same in the fourth quarter.
"We believe the company remains on track to be profitable in 2010, and expect follow-on orders from current Chinese transit bus customers and orders from new customers could drive revenue upside in 2010, as could contracts from its micro electronics business," Warrier said.
Shares of MXWL hit a 52-week low about a year ago at $4.50, but gradually rose to a high in October above $21 before falling a bit, and finishing the year near $18, for a 259 percent overall gain, making it among the biggest gainers of local public companies last year.
Maxwell's total full-time employment is 316, with about two-thirds of that based in San Diego, and about 100 in Switzerland.