As Tournament Time Nears, Farmers Steps In as Sponsor
Monday, January 18, 2010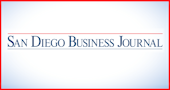 The San Diego Open has been renamed the Farmers Insurance Open after the Farmers Insurance Group agreed to become the title sponsor for the area's premier golf tournament, according to a Jan. 18 announcement.
The one-year agreement between Farmers and the PGA Tour includes a long-term option, but financial terms of the deal weren't revealed.
The tour, which runs Jan. 28 to 31, has a total purse of $5.3 million.
The PGA Tour and the Century Club of San Diego, the local nonprofit that organizes what formerly was called the Buick Open, had been searching for a replacement title sponsor after Buick said it was unable to continue its relationship in August. The division of General Motors had been the sponsor since 1992, but had to give it up after the parent firm filed for bankruptcy last year.
The golf tournament at San Diego's Torrey Pines Golf Courses has been a major event of the PGA Tour for many years, although the absence of Tiger Woods this year will have a dampening impact.
Tom Wornham, president and general manger of the Century Club, said while the event was prepared to go on without a title sponsor, "this is truly wonderful news that provides a tremendous boost to the tournament."
Farmers' parent firm, Zurich Financial Services Group, has been a sponsor of the New Orleans Open since 2005.
— Mike Allen