Maxwell Technologies Delivers One Millionth Ultracapacitor
Thursday, January 14, 2010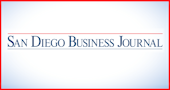 Maxwell Technologies Inc., the San Diego maker of industrial power storage systems, said it delivered its one millionth large cell ultracapacitor last month.
In a press statement Jan. 13, the company said its ultracapacitors are used in a variety of industrial products including wind turbines, smart utility meters and a variety of heavy machinery.
Other primary applications include hybrid electric buses, electric rail systems, cranes and lift trucks.
ISE Corp., an early Maxwell customer, said last month that its hybrid drive systems that use Maxwell products are now used in about 300 buses.
In April, Maxwell said three leading Chinese manufacturers of buses ordered $13.5 million worth of its ultracapicitors for about 850 buses.
Maxwell Technologies stock trades on the Nasdaq as MXWL. In midday trading Jan. 14 shares were at $18.57, down 14 cents from the previous day's close. Over 52 weeks the stock price has ranged from $4.50 to $21.81.
— Mike Allen