REAL ESTATE: GRUBB TO STAY; CASSIDY TURLEY TO DEBUT IN 57 LOCATIONS
BRE Commercial Set to Unfurl New Flag
Monday, January 11, 2010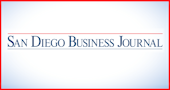 Real estate brokerage firm BRE Commercial San Diego is parting company with Grubb & Ellis Co. to join seven other firms around the nation to form a network of commercial brokerages to be branded as Cassidy Turley.
With 2,700 employees in 57 locations, Cassidy Turley will be the fourth-largest commercial real estate service firm in the nation, according to company executives. It will have 420 million square feet of managed space. Cassidy Turley joined with BRE Commercial operations in San Diego and in Phoenix to secure a foothold in the Southwest.
Cassidy Turley will include five firms that previously were associated with Colliers International. They are St. Louis-based Colliers Turley Martin Tucker, Washington, D.C.-based Cassidy & Pinkard Colliers, Baltimore-based Colliers Pinkard, New York-based Colliers ABR and Colliers Houston & Co. of New Jersey. Another member of the Cassidy Turley network will be former NAI affiliate NAI BT Commercial in San Francisco. The leadership of the Cassidy Turley network will be dispersed throughout the country, officials said.
Turning Point At Hand
BRE Commercial San Diego recently completed its second three-year term as an affiliate of Grubb & Ellis, said John Frager, president and CEO.

"We were flying the Grubb & Ellis flag and now we, as of March 1, will be flying a new one that is new to the entire industry," Frager said.
The name of the San Diego and Phoenix operations will be Cassidy Turley BRE Commercial, he added.

"We have had a great relationship with Grubb & Ellis," Frager said. "They are a fine company. We are excited to be partnering with Cassidy Turley and joint venturing in the growth of Southern California and the West. They are bringing in their capital and their expertise. We'll be adding our local knowledge and network."
The firms that are forming Cassidy Turley came together to create a network that would give them the independence to remain locally focused, Frager said.

"In all of my career, I can't recall a national brand being created like this," said Frager, 51. "They all saw an opportunity to create something new and exciting. There was a dissatisfaction of being a part of big public firms that were focused on pleasing Wall Street. We want to remain focused on the client. We realized we will be the fourth-largest commercial real estate firm in the U.S., based on revenue and square feet under management."
Grubb & Ellis Looks Ahead

Jack Van Berkel, president of real estate services for Grubb & Ellis, said he was not surprised to lose affiliates in San Diego and Phoenix. He stressed that his company would maintain a strong presence in the San Diego market.
"Those local firms would like to remain local and independent of a national firm," Van Berkel said. "We now are going to move as aggressively as we can toward having an owned office in San Diego. We have already started planning. The 'BRE/Grubb' signs will be coming down and 'Grubb' signs will be going up. We manage quite a bit of square footage already in San Diego and are looking to build on that platform."
BRE Commercial San Diego's move comes as brokerages struggle to cope with the recession, said real estate economist Gary London, president of The London Group.
"Undoubtedly we are going to see more as the brokerage community both consolidates and experiments with new business models in both a competitive and troubled commercial environment," London said. "They are trying to figure out how to position themselves. We are approaching a bottom in the commercial market. It makes sense to me that these commercial firms are repositioning themselves. They are trying to find out what the best marketing strategy is."

Kelly Cunningham, an economist with the National University System Institute for Policy Research, agreed.
"There are bound to be some consolidations in commercial real estate, not only in California but other areas where we have seen a lot of job losses," he said.
BRE Commercial San Diego represents more than 40 million square feet of industrial, office and retail properties, officials said. The company also provides tenant representation services to both established and new firms and offers investment and financing services. In 2008 more than $400 million in investment transactions were completed. With corporate office locations in Carlsbad, University Towne Center, downtown San Diego, Otay Mesa and El Cajon, the operation consists of approximately 150 commercial real estate professionals and personnel.
Emmet Pierce is a freelance writer for the Business Journal.