Defense Bill Sends Billions to Region
Monday, January 4, 2010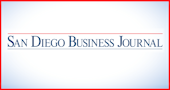 Breaking briefly from its debate over health care reform, Congress provided some clarity to defense contractors in mid-December by finalizing the Pentagon's 2010 spending plan.
The Senate gave final approval to a $636.3 billion defense appropriations bill Dec. 19 and President Obama signed it the same day. By then, the federal fiscal year was already two and a half months old.
The new bill is an $11 billion increase from the $625.3 billion appropriations bill of 2009, and will send billions of dollars to the San Diego region.
The new budget means San Diego's major shipyard, General Dynamics Nassco, will have the funding it needs to produce the 13th and 14th U.S. Navy cargo ships in the T-AKE series, 689-foot-long ships designed to deliver as much as 10,000 tons of food, ammunition, fuel and other provisions to combat ships at sea. The budget contains $940 million for the two vessels.
"That will finish out the T-AKE program," said spokesman Karl Johnson, adding that his employer expects to deliver the 14th vessel in 2012.
The Pentagon had already given Nassco some funds for ships 13 and 14 — specifically to buy components with long production times. The contract value for all 14 T-AKE ships is expected to be $5.2 billion.
Also in the budget is $120 million for Nassco to produce detailed designs of a new ship called the mobile landing platform, which Johnson called "the next ship on the horizon for the Navy."
Saving Jobs
The budget bill also restored full funding for five Global Hawk aircraft, the robotic spy plane built by Northrop Grumman. The bill sets aside $554 million for the program.
At one time, it looked as though the government would defer buying some of the high-flying aircraft, which can loiter over an area for 24 hours and stay aloft for 36 hours. A House of Representatives plan would have pared the Pentagon's order from five Global Hawks to two. In July, a Northrop representative said a delay of three aircraft could mean the loss of 500 to 600 jobs at Northrop's Rancho Bernardo facility.
The Senate voted to fully fund the Global Hawk, and full funding was restored in the House-Senate conference bill.
Northrop builds the spoon-nosed drone in Palmdale, but does engineering and office work related to the aircraft in San Diego.
The Navy variant of the same drone, which goes by the name Broad Area Maritime Surveillance, or BAMS, gets $441.8 million in the new budget, said a Northrop spokesman. That program, still in the research and development phase, is responsible for 172 jobs in San Diego.
The defense appropriations bill also contains $77 million for Fire Scout, Northrop Grumman's unmanned helicopter, according to a company spokeswoman.
The county's other major drone builder, General Atomics Aeronautical Systems Inc. of Poway, will provide unmanned aircraft by the dozen under the bill. The budget provides $489 million to buy 24 Reapers, a U.S. Air Force variant of the Predator that can carry missiles and bombs. Further, it provides $481 million to buy 24 Sky Warrior aircraft, a Predator variant for the U.S. Army that runs on a common Army fuel.
A company spokeswoman declined a request for an interview about the spending bill's ramifications for GA-ASI, an affiliate of privately held General Atomics of San Diego. The U.S. Senate Committee on Appropriations provided the funding amounts.
Bricks, Mortar And More
A new aircraft model is at the center of a construction project at Marine Corps Air Station Miramar. Late in 2009, San Diego received the first of its MV-22 Osprey aircraft, which takes off like a helicopter but can pivot its propellers forward to fly like an airplane.
Soltek Pacific, a San Diego-based construction company, has a $19.5 million contract to modify a hangar at Miramar to accommodate the Osprey, according to base officials.
Fiscal 2010 will be another big year for military construction in general. Naval Facilities Engineering Command Southwest, which plans and builds shore facilities for the Navy and Marines, expects to oversee $2.3 billion of capital improvements in fiscal 2010, mostly in Southern California. That includes a $563 million hospital project at Marine Corps Base Camp Pendleton, which will be awarded before Sept. 30. Camp Pendleton officials said they expect $1.41 billion worth of construction work this year.
Other highlights of the defense appropriations bill include:
• A 3.4 percent military pay increase.
• $880 million for continued development of the Joint Tactical Radio System. The JTRS program executive office in San Diego orchestrates the work of multiple contractors, a few of whom are in San Diego. The program's economic impact is "huge," said a command spokesman.
• Funds for Navy ship repair, which can bring local contractors up to $550 million a year. An executive with the Port of San Diego Ship Repair Association said he expects the fiscal 2010 budget to be fully funded, with $392 million for surface ship maintenance.