Executive Departs Illumina for Synthetic Genomics
Tuesday, February 23, 2010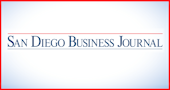 Joel McComb, who served as senior vice president and general manager of Illumina's $650 million life sciences unit, has left the San Diego-based genetic sequencing company to join Synthetic Genomics Inc. of La Jolla.
McComb will serve as chief operating officer of the privately held company where he will report directly to J. Craig Venter, the genomic pioneer who gained notoriety as the first man to have his DNA fully decoded. SGI, which is developing algae-based biofuels, attracted $300 million in funding from ExxonMobil's research arm in July.
McComb will assume his new duties March 1.
"Joel brings 25 years of solid life sciences and business experience that will be an important asset to SGI as we continue our growth and development as a company," Venter said.
While at Illumina, McComb was responsible for leading global product development, business strategy and overall operations in support of the company's DNA products and services business. He helped develop and launch Illumina's next-generation sequencing technology, the HiSeq 2000, which can fully decode all 3 billion base pairs of the human DNA for less than $10,000.
— Heather Chambers