LABOR: WORKERS INTERESTED IN LIFE SCIENCES CAREERS TO BENEFIT FROM STIMULUS FUNDS
Training Program for Veterans Gets $5M Grant
Monday, February 22, 2010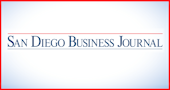 A new program aimed at recruiting San Diego's military veterans to fill a demand for clinical laboratory technicians and other support staff for the biotechnology industry has received a $4.95 million boost in the form of federal stimulus dollars.
Among the recipients of $225 million in stimulus spending announced Feb. 12 are San Diego State University's Research Foundation and a consortium of academic, work force and life sciences partners that will divide the grant money among themselves to offer programs intended to grow the future health care work force.
The funds, in the form of three-year grants from the U.S. Department of Labor, will go toward online job training and certificate and degree programs through SDSU and Miramar College. California will receive $31 million altogether to help train workers in eight programs.
Joseph Shapiro, dean of SDSU's College of Extended Studies, said the training will prepare experienced workers and those looking to translate their skills into new ones, such as medical laboratory technicians or quality control specialists. He estimated that the grant could serve as many as 3,000 students over three years.
Industry leaders said the biotech industry, which employs 67,750 workers locally, continues to see a need for clinical laboratory scientists and medical laboratory technicians.
"It's not just the lab science work," Shapiro said. "They need accountants, manufacturing people, distribution people. For the work here in San Diego, you can't run a biotech company without all the business aspects."
Data from San Diego Workforce Partnership Inc.'s One-Stop Career Centers indicate that 12 percent of the 164,000 or so individuals unemployed in San Diego are military veterans. Almost half of them have completed a bachelor's degree or higher education.
Connecting Graduates, Employers
The Workforce Partnership, which funds job training programs for the unemployed, and the California Department of Veterans Affairs will recruit candidates interested in building their education through SDSU or Miramar College programs. BIOCOM, the local life sciences trade group, will also act as a partner to facilitate online courses and connect graduates to potential employers, officials there said.
Joe Panetta, CEO of BIOCOM, said the program could help fill a critical gap in the life sciences work force today.
"We're seeing many companies now relying more on outside contractors instead of employing their own clinical development staff," he said.
But local contract research organizations have grown, he said, and they're in need of qualified workers.
"We think that need is going to continue to grow as the region builds its service cluster to help biotech and life sciences companies move their products through development and commercialization," Panetta said.
Model Program
BIOCOM will use $600,000 of the grant money to help fund existing educational programs that prepare workers for a life sciences career, according to Kristie Grover, who heads the BIOCOM Institute, the organization's nonprofit educational arm. Eventually, she said, the program could serve as a model to other biotech hubs across the country.
The program builds on a 2006 grant through the Bush administration's high-tech jobs training initiative, which helped build a summer life sciences program for high school students intended to spur interest in biotech careers.

Labor Department Secretary Hilda Solis said more than $225 million in grant money will be directed at training 15,000 people in the kind of job skills necessary for careers in health care IT and other unidentified high growth fields.
Regional Centers
Health care providers that are looking to implement an electronic medical record, but are still figuring out the best ways to do that, will also be able to seek support through newly awarded stimulus programs.
On the same day the Labor Department announced $225 million in grants, the U.S. Department of Health & Human Services said it would administer $750 million in health care IT efforts. Of the total, $386 million will go to 40 states to facilitate health information exchanges at the state level, while $375 million will go to 32 nonprofits to help build regional extension centers.
A group comprised of the nonprofits California Primary Care Association, the California Medical Association and the California Association of Public Hospitals and Health Systems was awarded $31 million to build a technical and educational support center. The regional extension center, based in Sacramento, would support clinics, public hospitals and small doctor's offices across the state, including San Diego.
Sean South, a spokesman with the California Primary Care Association, said the extension centers will be able to connect members with bigger health care IT vendor discounts than they could get alone by nature of its group purchasing power.
The centers are expected to provide outreach and support services to at least 100,000 primary care providers and hospitals within two years — the deadline for achieving "meaningful use," necessary to qualify providers for financial incentives under the Department of Health & Human Services' health IT adoption plan.