FINANCE: CONGRESS CONSIDERS MOVING $30B TO SMALL-BIZ LENDING FUND
Stimulus Bill Helps Spur Demand for SBA Loans
Monday, February 22, 2010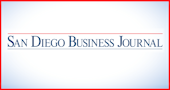 San Diego — While many banks are hunkering down, dealing with more problem loans, and being more careful about lending, lenders providing loans guaranteed by the U.S. Small Business Administration are seeing increased activity.
"There's good demand," said David Bartram, division manager of SBA lending for Seacoast Commerce Bank. "We're just having to look a little harder because the quality isn't always there."
Bartram, who headed up the SBA divisions at Temecula Valley Bank, which failed last year, and at both U.S. Bank N.A. and the Bank of Commerce, brought in a lot of the same people he worked with previously, set up shop in Escondido, and launched Seacoast's SBA unit in the fall. The bank also opened loan production offices in Los Angeles, Sacramento, Bellevue, Wash., and Phoenix.
From October to the end of December, Seacoast Commerce's SBA unit made 32 loans for $23 million.
Bartram said the federal government's stimulus bill, which increased the guaranteed portion of SBA loans to 90 percent and eliminated fees to borrowers, helped stir demand.
Lower Interest Rates Also A Plus
Kurt Chilcott, chief executive at CDC Small Business Finance, a certified development corporation that participates on loans for real estate acquisition and equipment through the SBA's 504 program, said another factor spurring demand is lower interest rates.
"There's still low (interest rates) out there. You can get 5 1/2 percent fixed for 20 years, which is very good," Chilcott said.
Several small-business borrowers using the 504 loans to buy buildings said the low interest rates combined with a lower down payment on the loan were factors in seeking their loans.
"In the long run, this will be better for us," said Chris Loarie, who used a $285,000 loan from Union Bank N.A. and CDC Small Business Finance to buy a 2,000-square-foot office and warehouse space in El Cajon.
Loarie's business, Intellicept, makes metal clamps that are attached to benches and other public amenities to prevent them from being damaged by skateboarders. When he started the business, Loarie said many property managers laughed at his products called Skatestoppers. But as damage to the benches and other concrete elements escalated in the past decade, his business consistently grew. In 2008, sales reached about $1 million.
Greater Efficiency
Loarie said the benefits of owning easily outweighed leasing.
"The building is more conducive to what we're doing, and I'm probably going to save about 20 hours a month because of the increased efficiencies we'll gain in handling materials," he said.
Loarie said he's paying $300 on his loan above what his former rent was, but the increase is negligible. When he retires, he said he expects to lease the space.
Mike Simmons, who co-owns the Bicycle Warehouse with his wife, said his goal has always been to purchase the real estate his bike shops occupy, but the locations didn't always generate enough revenue.
Last year, the company's sixth store in Escondido reached a level that made sense for a purchase. The SBA 504 loan program requires 10 percent of his equity, making it better than a conventional real estate loan where he'd have to come up with at least 20 percent.
Simmons obtained a $650,000 loan on the $725,000 purchase of a 4,800-square-foot building in Escondido. Bank of America Corp. provided half the loan, while the CDC did 40 percent. BofA's portion charged about 6 percent, while the CDC is charging about 4.5 percent.
Average Loan Size Grows
Ruben Garcia, director of the SBA's San Diego District Office, said the average loan last year was just below $200,000, but in recent months, the size has been increasing. That's a good trend because, for every $33,000 in SBA loans, data shows one new job is created, Garcia said.
For the last quarter of last year (which is the SBA's first quarter), the local district reported 143 loans compared with 123 loans in the same period of 2008. In dollars, the local district lenders provided $70 million in loans compared with $45 million in the like quarter of 2008.
The lending activity may grow even more if Congress passes a special bill aimed at boosting employment, and moves some $30 billion in funding to the SBA, said Garcia.
"They (Congress) are looking at it, and hopefully, they'll take action on it, but it could be two to six months before the banks could begin lending it," he said.