CONSTRUCTION: RATING SYSTEM AWARDS REGIONAL CREDITS FOR WATER CONSERVATION
LEED Gains Status as County Doubles Up on Energy-Efficient Projects
Monday, February 8, 2010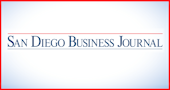 Getting a building LEED-certified is becoming an increasingly common pursuit in San Diego, as the long-term financial benefits of having an energy-efficient building gains popularity.
LEED, which stands for Leadership in Energy and Environmental Design, is a certification system of the U.S. Green Building Council that serves as a benchmark for the design, construction and operation of high-performance green buildings. There are three levels of certification: Platinum, Gold and Silver.
In San Diego County during the past year, the number of LEED-certified projects doubled to 55. Two are Platinum, 18 are Gold, 19 are Silver and 16 are certified, according to Zachary Pannier, president of the U.S. Green Building Council's San Diego chapter.
And the number of projects in the county registered for LEED certification has also doubled in the last year, says Pannier, to 309.
The LEED rating system is "consensus driven," and always evolving, says Pannier, with the latest being version three, or LEED 2009. "It's a benchmark system that shows you where your performance is within the building environment," he said.
LEED certifications of environmental sustainability and energy efficiency are given to homes, new commercial building interiors and exteriors, schools, health care facilities and retail buildings. Additional certification can be received if a building's operations and maintenance perform as designed.
Ratings Based On Points
The certifications for 2009 are based on a point system that goes up to 110 points. A Platinum certificate, the highest rating, is given to any structure scoring 80 or more points. Gold certificates are awarded to scores between 60 and 79, and Silver designations go to scores of 50 to 59.
Credits are earned for site efficiency with water, heating and air conditioning, use of building materials and resources, and building design and operations innovations. Newly offered in the 2009 rating system are regional credits for conserving natural resources that are scarce in certain geographic areas. In San Diego, that designated limited resource is water.
Pannier estimates the average time it takes for a project to be submitted for consideration and receipt of certification is about three months.
Pannier, of DPR Construction Inc., says many people wrongly approach LEED certification levels as initial goals for a project. The best approach, according to his experience, is to take a strategic look at what a planned building's requirements are, then design affordable, efficient systems to meet them. Once that is done, LEED's standards can be overlayed over the project "to see where you are" in the ratings point system.
"The big key to that is an integrated design that the owner, designer and consultant look at from a holistic point of view," said Pannier. "That will get a product you want with the lowest (environmental) impacts."
Adopting Green Practices
Either way, there's widespread interest among those building projects to be considered green.
He estimates nearly 90 percent of the building projects his company works with are serious about pursuing LEED certification.
The city of San Diego gave a major push to the LEED certification movement locally in 2002 when it decided all new city buildings would have to be built to a LEED Silver certification or higher standard.
And, says Bill Anderson, the city's director of planning and investment, the city expedites approvals for green projects.
"Because the process is fast, we see a lot of applications that take advantage of the program," said Anderson. "For some it fits their corporate image, for others there's greater worker productivity in these buildings."
Steve Van Loan, project director for Sundt Construction Inc. in San Diego, says he's watched the popularity increase for LEED certifications.
"We certainly have a lot more awareness of it in the construction industry than five years ago," said Van Loan.
Product Availability Increasing
Green building results in savings to the building's owner in heating, cooling, insulation and lighting, he says. And over the last five years, the upfront expense of installing green systems has dropped 3 percent to 5 percent because a lot more green building products are on the market now.
Local examples of LEED-certified buildings:
• Ranch House at Del Sur
This 3,000-square-foot community center/sales office was completed in June 2006 and was certified LEED Platinum in June 2007. Its energy efficiency is 40.3 percent higher than the state's Title 24 energy-savings standards. It is the first private enterprise, new construction LEED Platinum building in California.
• Qualcomm Inc. Building W Campus
This includes Building W, a two-story, 115,388-square-foot office building; Building W Tower, 12 stories and 411,950 square feet; a single-story 27,750-square-foot central plant; and a seven-story 447,138-square-foot parking garage. Completed in October 2006, it was certified LEED Gold in June 2007. It surpasses Title 24 standards by 15.3 percent.
• San Diego Zoo's Beckman Center for Conservation Research
This 50,000-square-foot research and lab facility at the Wild Animal Park in Escondido was completed and LEED certified Silver in 2004. It scored 33 out of a possible 60 points for water efficiency, energy and atmosphere, materials and resources, indoor environmental quality and innovation and design.
Mark Larson is a freelance writer for the Business Journal.