Real Estate Roundup
Monday, December 13, 2010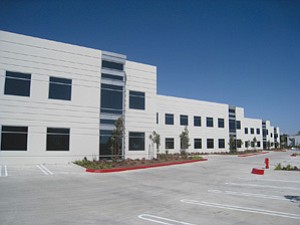 Gafcon Demonstrates Quality Control Technology
Gafcon Inc., a California-based construction management and consulting firm, showcased its "nSpec" contractor quality control technology at the Navy Quality Control Conference, held recently at Marine Corps Base Camp Pendleton.
The conference involved all contractors and quality control personnel working on the $5 billion worth of construction projects on the 125,000-acre base.
Gafcon's nSpec CQC is a hand-held mobile platform which ties into a Web-based SharePoint portal to automate the government-required contractor quality control system. The platform has been beta-tested by the U.S. Marine Corps at Camp Pendleton, and is commercially available. It includes documented daily observations with photos, automated notifications for safety violations, and tracking of personnel assignments.
"Gathering field data is incredibly labor intensive and has always been an inefficient part of the construction process," said Yehudi "Gaf" Gaffen, chief executive officer of Gafcon. "Contractors are able to use this technology to dramatically improve profitability, project performance and client satisfaction."
The government-initiated CQC program in the late-1970s requires that contractors take responsibility for the quality of the construction provided under federal contracts. The program requires generation of daily reports as well as other updates that document preparatory, initial, and follow-up phase quality control activities, as well as documentation of all required re-work identified by the quality control manager. These reports have typically been prepared by hand or in word-processing software at an office site.
Local Contractor Builds $55M School in Irvine
Barnhart Balfour Beatty announced the completion of Orchard Hills School, a new, comprehensive kindergarten through eighth grade school in the Tustin Unified School District.
The $55 million school is located on a 15-acre site in Irvine.
The school opened for the 2010-11 school year with more than 450 students in grades five and six. Additional grades will be added in coming years. The project is master-planned to house more than 1,200 students and contains 45 teaching stations and supporting facilities totaling 147,524 square feet. In addition to classrooms and laboratories, the facility includes a kindergarten with play areas, specialty classrooms, an administration building, elementary and middle school libraries, a multipurpose/food-services building with a stage, a gymnasium, and track and sports fields.
Orchard Hills School was funded through taxes on new housing development and with matching state funds.
Architectural and design services were provided by MVE Institutional Inc. of Irvine. The Barnhart team included John Bernardy, senior vice president; John Squillace Sr., senior project manager; Dave Creek, project manager; Don Rondeau and Jesse Schmitt, project superintendents; and Aaron Lee, field engineer.
Downtown Office Building Is Sold for $7.2 Million
Cassidy Turley BRE Commercial announced the $7.2 million sale of the downtown office building located at 925 B St.
The six-story, 64,581-square-foot office building was sold to Virginia Herrera Gonzalez by Far East National Bank.
The former Chicago Title building was previously owned by an office condominium developer who purchased the property in 2007 for $13.6 million. In October 2009, the property was sold again at a public auction to the highest bidder for $12 million. The buyer was the foreclosing beneficiary.
Far East National Bank was represented by Tim Winslow, Jason Kimmel and Kelly Strickland of Cassidy Turley BRE Commercial. Jeannine Savory of Prudential California Realty represented the buyer.
Vista Industrial Building Leased for $6.7 Million
Lee & Associates has completed a 10-year lease of a 98,000-square-foot Leadership in Energy and Environmental Design-certified industrial building located at 2633 Progress St. in Vista. The lease is valued at approximately $6.7 million.
Team AIM, consisting of Adam Robinson, Isaac Little and Marko Dragovic of Lee & Associates-North San Diego County, represented landlord Wilco Investments in the transaction. The tenant, McCain Inc., was represented by Don Grant of Cassidy Turley BRE Commercial, and will be using the property for office, research and development, manufacturing and distribution.
"This is one of the largest industrial lease transactions completed in San Diego County this year," said Robinson.
According to team AIM, the property was recently constructed in the second quarter of 2010 and was the only building of its class available in this size range. The LEED-certified facility has a high-image corporate design, dock and grade-level loading, two-story entry, and state-of-the-art construction.
"We were very pleased with the Lee & Associates team," Wilco Investments said. "Our building was heavily marketed throughout the construction phase and we were able to secure a quality tenant shortly after completion."
Construction Completed on Alzheimer's Care Facility
General contractor T.B. Penick & Sons Inc. has completed construction on a $3.3 million state-of-the-art Alzheimer's disease care facility at Sunshine Care, a 32-acre alternative assisted living and dementia care community located near Monte Vista Road in Poway.
The 10,800-square-foot facility is the newest addition to the existing six care facilities located at the center, providing a total of 86 beds.
Construction of the two-level building, including 5,500-square-feet of living area with a 5,300-square-foot underground parking garage, consists of structural concrete masonry foundations with a wood-frame stucco finish and tile roof.
Designed by internationally known gerontologist/architect Uriel Cohen, with San Diego-based designer Kit Ashley of CCA/Architects, the new 12-room, 24-bed facility incorporates a spacious Hawaiian-style indoor/outdoor environment featuring 14-foot ceilings. A central "great room" is comprised of a common dining room and adjoining living room area with a wall of 10-foot Lanai glass doors opening to a landscaped outdoor courtyard.
According to Sam Stelletello, CEO and president of Sunshine Care, the open setting is a special place that keeps clients from feeling confined. "Our special mission is to provide an 'at home' environment that is comfortable, safe and secure."
Security cameras located throughout the facility allow off-site viewing and monitoring of the common areas for safety.
In addition to the 15 fountains found throughout the campus, two orchards, growing fields and a 1,000-square-foot on-site greenhouse provide fruits and approximately 5,000 pounds of vegetables each year for the center's residents.
The T.B. Penick project team was comprised of Dan Curley, project manager; Brad Huys, superintendent; and Avdo Krzovic, project engineer.
Major subcontractors included A&P Drywall Inc., Convergent Inc., General Coatings Corp., Helfers Electric Co. and Mark Harris Plumbing.