CONSTRUCTION: AREA PROJECTS JUMP-START SLOW CONSTRUCTION REBOUND
Home Builders Put Plans for Large Developments in Motion
Monday, December 13, 2010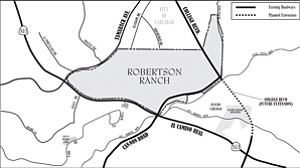 Prospects for a recovery in San Diego County's housing market, especially in the North County area, received another boost recently when Beverly Hills-based Shapell Homes announced its acquisition of approximately 200 acres in Carlsbad, to eventually build more than 600 homes.
The news followed an August announcement by nationwide builder Standard Pacific Homes, which said it will invest at least $150 million to move forward on a previously stalled development near Escondido, which would eventually include more than 700 homes on 468 acres.
Matt Koart, Shapell's chief executive officer, said by phone that the privately held company is not divulging what it paid to acquire the acreage, spanning the western portion of the larger Robertson Ranch in Carlsbad, or what it plans to invest by the time the property is fully built out.
But Koart said the company, which has been focused primarily on Orange County communities during the past decade, is cautiously optimistic as it returns to San Diego County for its first new local development in several years.
A relative lack of remaining available large parcels in the county, especially in well-located areas near the coast, also prompted the company to act now in anticipation of rising housing demand in the long run.
"We do sense that the economy is improving, but that's not being incorporated into our underwriting," Koart said. "We are assuming that demand will be better when it's time to sell homes, but we don't expect that prices will be much above where they are right now."
Advance Preparations
He said the builder expects to begin putting up homes on the site in about two years.
While the company likely won't build the full 680 allowed under the property's master plan, the number eventually could surpass 600.
Those homes will include a range of sizes and price points, including townhomes smaller than 2,000 square feet and higher-end dwellings of 4,000 square feet and larger.
The Shapell development will also include a neighborhood-serving retail center in a village setting, and about half of the property has been set aside for open space and recreational uses.
Gary Barberio, Carlsbad's community and economic development director, said the property acquired by Shapell, located off El Camino Real and Cannon Road, is among the last large undeveloped properties available for multi-use housing projects in the city, although there are currently several developments in progress.
In the eastern portion of Robertson Ranch, builders including Brookfield Homes, D.R. Horton Inc. and William Lyon Homes have communities in various building and planning phases.
San Diego County housing construction, measured in building permit valuations, has been in a slow rebound mode in 2010, although levels of development remain well below what was seen before the recession.
According to the Construction Industry Research Board, residential building activity — including construction and renovation of homes and apartments — was up 10 percent from a year ago for the first 10 months of 2010. Permit values rose from $748.8 million in 2009 to $825.9 million this year.