Downtown Partnership Names President
Wednesday, December 8, 2010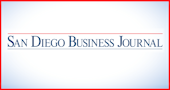 Kris Michell, who's worked for both Mayor Jerry Sanders and former Mayor Susan Golding as chief of staff, was named president of the Downtown San Diego Partnership, a nonprofit business advocacy group, the organization said Dec. 7.
Michell, with Sanders for the past five years, was selected for the job from a field of more than a dozen finalist candidates, said Chairman Scott Maloni.
"Her experience will help strategically position the partnership as the leading advocate for downtown," Maloni said.
Michell's resume also includes a stint with the San Diego Padres after her tenure with Golding. Before her job with Sanders, she was vice president of the Sickels Group, and a vice president at Marsh Risk and Insurance Services.
Michell is remaining with Sanders until Jan. 14, and starts her new gig Feb. 14, which sounds like a lovely new beginning.
Sanders named Deputy Chief of Staff Julie Dubick to take Michell's place.
— Mike Allen