TECHNOLOGY: COMPANIES CONFRONT LEGAL ISSUES TIED TO MANAGING REMOTE STAFF
When Workers Go Mobile, Employers Navigate New Labor Laws
Monday, August 30, 2010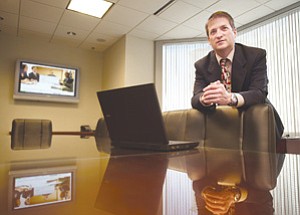 As new technologies make it easier for employees to do their jobs outside the traditional workplace, employers increasingly find themselves navigating through unfamiliar legal waters.
Thanks to the Internet, mobile telephone devices and videoconferencing, employees are increasingly mobile, often doing their jobs from home. The expectation of bringing a company's entire work force together for eight hours each day is fading. A key issue among employers is how to manage their changing legal responsibilities, said Michael S. Kalt, a partner and employment law specialist with the San Diego-based law firm of Wilson Turner Kosmo LLP.
"The employees want it and it has benefit to employers," Kalt said of telecommuting. "If done correctly, I think it is a win-win situation. For the employees, it gives them increased control over their lives. You are not stuck in traffic for two hours a day. From the employer's perspective, there is less office space that you need and it helps with retention."
According to Kate Lister, principal researcher at the Telework Research Network in Carlsbad, more than 20 million people in the U.S. work from home at least one day a week. Although they still represent only a fraction of the overall work force, the number of employees working remotely at least one day a month has increased by about 75 percent since 2005, she said.
Companies that have workers who do their jobs at outside locations have new legal considerations, said Kalt, whose practice emphasizes the litigation of harassment, discrimination and wrongful termination.
"One of them is wage and hour issues for nonexempt employees," Kalt said. "How do you control unauthorized overtime? How do you monitor the hours actually worked? How do you ensure they are taking their meal and rest periods? You can have them sign into a computer and have them sign an affidavit, but it is not as easy as when they are in the office."
Employers Track Work Hours
Megan Winter, an attorney specializing in labor and employment law for employers, said keeping track of work hours is essential for companies that have such staffers.
"It can be very difficult to supervise those kinds of activities when the employee is not in the office, but the employer has a responsibility to keep accurate time records," said Winter, who works with Fisher & Phillips LLP.
An important legal issue deals with equal treatment. Employers once considered reporting to the office for work to be an essential job function. Once companies open the door to telecommuting, they must have a policy in place that spells out when such arrangements are appropriate and who may participate.
"Another issue we worry about is on the workers' compensation front," said Kalt. "What happens if the employee hurts themselves while working at home or Starbucks? Are they at a workplace or not, and how do you prove it? It is unclear. It creates a whole host of issues."
Joseph Sanchez, an attorney with Best Best & Krieger LLP in San Diego, said the Occupational Safety & Health Administration has indicated that employers are not required to inspect homes for safety issues when a worker is telecommuting. Sanchez says it is best to err on the side of caution to avoid possible liability.
"Maybe it is a good idea for employers to do that anyway, to make sure the workplace is ergonomically correct," he said.
Controlling Confidentiality
Still another legal issue companies should consider is confidentiality. When people work from home, their computers may not have the same protections. Employers can't control who comes into a remote workstation and looks at sensitive data. When someone is working from home, there may be other members of the household who have access to legally sensitive materials.
Before companies embrace telecommuting, they need to have specific policies in place that maximize their legal protection, said Kalt.
"I am a big proponent of letting people work from home," he said. "It makes your life easier, but as an employment lawyer I am cognizant that no good deed goes unpunished. You need to think it through."
Emmet Pierce is a freelance writer for the San Diego Business Journal.