Regional Report
Monday, August 23, 2010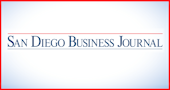 San Diego
Drug Maker Laying Off 86% Of Its Staff, Reports Net Loss
Cypress Bioscience Inc., a locally based drug maker, has shaken things up, taking significant actions recently in a strategy of reducing costs, conserving cash and focusing on other drug development.
It said it would be selling or discontinuing a personalized medicine services business by the end of the third quarter.
The company also said it discontinued an agreement to co-promote Savella, its drug to treat fibromyalgia, with Forest Laboratories. Cypress said it is receiving a one-time payment of $2 million, but retaining royalty rights.
Those actions, estimated to save the company $10 million annually, will result in the company cutting 86 percent of its staff of 143, leaving it with 20 employees.
Cypress reported a third-quarter net loss of $1.8 million on revenue of $9.1 million. That compared with a net loss of $8.6 million on revenue of $5.8 million in the year-ago quarter.
Cypress estimated restructuring charges on the layoffs that are effective Oct. 6 will be $4 million to $4.5 million. As of June 30, the company reported holding $105.5 million in cash and cash equivalents.
Cypress' ticker symbol on Nasdaq is CYPB.
— Mike Allen
San Diego County
N. County Tourism Bureau Contracting Out Services
The San Diego North Convention & Visitors Bureau, which promotes hotels in the northern part of the county, announced Aug. 6 that it is finalizing plans to contract sales and marketing efforts with the San Diego Convention & Visitors Bureau.
A formal agreement between San Diego North member hotels and the primary San Diego tourism bureau, also known as ConVis, is expected to be finalized by early September, according to a statement from the North County bureau.
Financial terms were not disclosed, but the change will likely mean staff reductions at the Escondido-based tourism organization.
"We are reallocating and redeploying resources so we can do our best to attract leisure visitors, conferences and business travelers," Jack Jacobs, chairman of the San Diego North Convention & Visitors Bureau board of directors, said in the statement.
"We are getting very focused on hotels from La Jolla to Rancho Bernardo — roughly between Highways 52 and 56," Jacobs said.

A representative of the San Diego Convention & Visitors Bureau said the partnership will allow the two entities to combine resources and more effectively market the region.
— Lou Hirsh
San Diego
Coin-Counting Kiosk Firm Invests in Local Business
Coinstar Inc., the Seattle-area company behind the coin-counting and movie rental kiosks found at supermarkets, said Aug. 11 that it made an investment in locally based ecoATM. Financial terms of the investment were not disclosed.
EcoATM is developing a kiosk that will accept and recycle used wireless devices such as cell phones and iPods, giving kiosk users a payment in return. Some $7 billion in wireless phones are retired yearly, the companies said in a news release.
Coinstar is based in Bellevue, Wash. Its Redbox subsidiary operates DVD rental kiosks. Coinstar shares trade on Nasdaq as CSTR.
— Brad Graves
San Diego
Wireless Technology Firm Posts $71M Quarterly Loss
NextWave Wireless Inc. reported Aug. 10 a second-quarter net loss of $71.2 million, compared with a net loss of $55.5 million for the like quarter of 2009.
For the first half of the fiscal year, the Carmel Valley-based business that owns wireless spectrum licenses said it had a net loss of $74.5 million, compared with a net loss of $137.6 million for the first half of 2009.
NextWave's second quarter ended July 3.
According to a securities filing, the wireless technology company issued $25 million in senior notes during the quarter. It is paying 15 percent interest annually on the notes.
The firm's stock is listed as WAVE on the Pink Sheets exchange. It was delisted last month from Nasdaq.
— Mike Allen