County's Unemployment Number Grows
Friday, August 20, 2010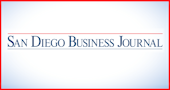 San Diego County's jobless picture got worse in July with the unemployment rate rising to 10.8 percent, up from a revised 10.5 percent in June, according to an Aug. 20 report from the state's Employment Development Department.
The adjusted unemployment rate for California for July was 12.3 percent, while the national adjusted jobless rate was 9.5 percent.
From June to July, the area's total nonfarm employment declined by 13,100 jobs, while farm employment dropped by 400 jobs.
The largest drop in jobs, about 8,600 positions, was caused by teachers and other educational workers taking a summer recess. Another 2,800 jobs were lost in state government, and 1,300 were lost in federal payrolls, the EDD report said.
Over the past 12 months to July, the area's total nonfarm employment shrunk by 3,100 jobs, or 0.3 percent. The biggest sectors shedding jobs were in manufacturing, down 3,300 jobs; financial activities, down 2,400; and construction, down 1,000.
Four sectors reported net gains over the year led by educational and health services, with a net gain of 3,800 jobs.
— Mike Allen