REAL ESTATE: PROPERTIES IN MULTIFAMILY SEGMENT GETTING MULTIPLE BIDS
Investors Take Notice of Local Apartment Buildings
Monday, August 9, 2010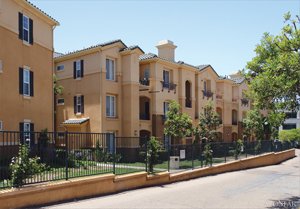 Potential sellers of well-located San Diego County apartment buildings in 2010 likely have been seeing things differently from their counterparts in other real estate segments, such as offices and hotels.
Local observers note rising interest among investors in the multifamily segment, with properties getting multiple bids from well-qualified buyers.
The recovery in apartment properties is expected to outpace that of other segments for the rest of 2010, as real estate investment trusts, life insurance companies and other well-heeled investors look to capitalize on a market where apartment demand remains strong amid tight supply.
"There's definitely more activity out there," said Darcy Miramontes, a principal and broker in the San Diego office of Cassidy Turley BRE Commercial, referring to purchases and bidding for apartments. "It's not at 2007 or 2006 levels, but there has been an increase in activity for both small and large properties."
Data from research firm CoStar Group indicates that local sales volume for apartment properties of at least 25 units totaled $145 million in the first half of 2010. That was actually down from $194 million in the first six months of 2009.
However, observers say there is less distress-fueled selling in the current apartment market than there was a year ago, and less overall distress in the San Diego market than in most metro areas.
Also, more potential buyers are lining up to compete for properties that aren't in distress — with 20 to 30 parties in contention for some buildings, depending on the location, Miramontes says.
Financing Rates a Key Factor
Experts note that sales in the segment are being spurred by several factors, including still low financing rates, a rising flow of investment capital coming off the sidelines, and the fact that San Diego County remains among the nation's healthiest investment markets for multifamily real estate.
According to research firm MarketPointe Realty Advisors, the local multifamily vacancy rate has risen from 2.58 percent in September 2007 to 4.75 percent as of March 2010. That still puts it well below the national average for major U.S. metro areas, which has recently been hovering around 9 percent.
By submarket, MarketPointe reports that local vacancies range from 3.59 percent in the North County coastal area, to 5.7 percent in the East County market. Central County, South County, the Interstate 15 corridor and Highway 78 markets have vacancy rates between 4 percent and 6 percent.
MarketPointe notes that countywide rental rates as of March were down 0.5 percent from a year ago, but rose 4.33 percent in the past three years.
Steven Orchard, senior vice president for George Smith Partners in Los Angeles, which does commercial real estate financing throughout Southern California, says investment dollars are increasingly attracted to San Diego's apartment market.
Reasons include the region's improved employment prospects, as it resumes job creation at a faster pace than other Southern California communities, as well as a scarcity of new apartment product coming on-line as the population grows. Orchard notes that land availability for new apartment construction is limited, and home prices are high enough that large numbers of residents still find renting more feasible than buying.
Quicker Recovery
"It has been recovering ahead of the other commercial real estate markets so far," Orchard said of San Diego's apartment climate. He adds that investors are also looking at demographics as well as location — seeking out apartment complexes located near hubs of job growth, such as universities and military facilities.
While his firm recently completed a $15 million loan financing for a client purchasing a three-building warehouse complex in San Diego, Orchard says it has found buyer competition "pretty intense" when looking to finance apartment purchases in the region, though it continues to scout properties throughout San Diego County.
Among buyers recently breaking through the competition is Security Properties of Seattle, which purchased the 172-unit Entrada Apartments in downtown San Diego for $22 million.
John Gleason, director of income properties for Security Properties, says the company has holdings in 34 states and will be looking long-term to purchase more apartment complexes in San Diego County.
Coastal California continues to attract institutional investors in apartments. One result, says Gleason, is that his firm often finds itself up against 20 or more bidders.
"San Diego has really been a big priority for us among the California markets," Gleason said. "We remain bullish on that area."
REITs Seek Apartment Properties
A recent quarterly report by Cassidy Turley BRE Commercial notes that
REITs and multifamily equity funds have led demand for apartment properties in the San Diego market. Well-qualified buyers, with investment funds parked on the sidelines, also still have access to inexpensive financing.
Fannie Mae and Freddie Mac continue to dominate the multifamily financing market, and investors such as life insurance companies are also increasingly putting money in the apartment sector.
According to CoStar Group and public records, the largest multifamily property transactions of the second quarter included Forest Glen, an 88-unit apartment complex purchased in April by Virtu Forest Glen Associates LLC for $9.7 million; and Grossmont Terrace, a 60-unit La Mesa apartment complex bought by Grossmont Terrace LLC for $7.2 million.
The largest transaction of the first half involved Allure, a 194-unit, multifamily condo and apartment complex in Scripps Ranch, purchased in March by BRE Properties Inc. for $46.2 million.
Miramontes says the influx of investors scouting out apartment deals has some sellers "testing the market" and putting non-distressed properties up for sale, knowing they'll get multiple offers. The same climate also may give distressed apartment owners better alternatives to exit their situation than they might have seen a year ago.