Ground Breaking: San Diego City College Facility Master Plan/16th Street Precise Plan
Monday, August 9, 2010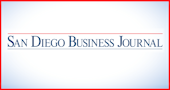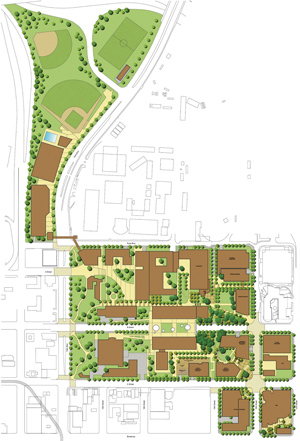 PROJECT: Facility Master Plan/16th Street Precise Plan, San Diego City College.
PROJECT DESCRIPTION: The Facility Master Plan and 16th Street Precise Plan are guiding the revitalization of San Diego City College to redefine the college as a pivotal member of downtown San Diego's core through enhancement of green space, pedestrian access, creation of academic neighborhoods and development of the campus' peripheral image.
The Master Plan identifies architectural and landscape standards, including aesthetic objectives for the campus image and gateways, pedestrian pathways, open space networks and elements of "campus fabric" such as landscape, hardscape and gathering spaces.
The updated Master Plan includes new buildings, remodeled existing facilities and infrastructural upgrades totaling approximately 10 acres of redeveloped area; 700,000 square feet of new and/or remodeled/renovated academic space; and 1,643 parking spaces.
Seven instructional and career/vocational training facilities construction projects and seven major renovations are included in the Master Plan. It also includes three infrastructure projects, public safety enhancements, parking and pedestrian access enhancements, and landscape upgrades utilizing high-efficiency irrigation and drought-tolerant landscaping.
INTERESTING FACTS: Development of the City College Master Plan utilized a collaborative approach with set principles and defined objectives. The development team was comprised of the college president; vice presidents of administrative services, instructional services and student services; campus project manager; the San Diego Community College District architect and construction manager; consultants representing the college's architectural firms; landscape architects; and civil, mechanical and electrical engineers.
In keeping with SDCCD's green building policy, all eligible projects include formal pursuit of the U.S. Green Building Council's Leadership in Energy and Environmental Design Silver certification as a minimum standard; utilization of materials with recycled content and from local sources; and an emphasis on integration, efficiency and performance. 
Ten percent of the energy utilized must be renewable, with at least 5 percent of the total project's energy generated on-site; the balance would be supplied by utility companies as green power. All projects will exceed the state's Title 24 building standards by at least 10 percent.
DEVELOPER: San Diego Community College District.
FINANCING: Proposition S.
DESIGNER: Carrier Johnson + Culture.
MAJOR PARTNERS: Consultant team including Carrier Johnson, master plan architect; RBF Consulting, civil engineer; KPFF Inc., structural engineer; Kleinfelder, geological services; MA Engineers, mechanical engineering; and JE Moore Consulting Inc., campus project management.
START DATE: Spring 2004.
COMPLETION DATE: August 2014.
CONSTRUCTION COST: NA.
PROJECT COST: $341,128.
SQUARE FOOTAGE: 700,000 square feet.
TENANTS SIGNED TO DATE: NA.
LEASING AGENT: NA.