Docomo to Buy PacketVideo
Tuesday, August 3, 2010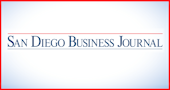 PacketVideo, the main subsidiary of San Diego's Nextwave Wireless Inc., said it is selling the remaining 65 percent of the company to Japanese carrier NTT Docomo Inc. for $111.6 million, the companies said Aug. 1.
Docomo acquired 35 percent of PacketVideo in July 2009 for $45.5 million.
Under the agreement that needs approval of Nextwave shareholders and regulators, PacketVideo, which provides software that enables mobile devices to play video and music, becomes a wholly owned subsidiary of Docomo, but will operate autonomously with its own board of directors and its current president, Jim Brailean.
Founded in 1998, PacketVideo was acquired by Nextwave in 2005. The company powers more than 15 music services for mobile operators including Verizon Vcast Music and AT&T Music. It also powers Docomo iMotion Player in Japan.
Shares of parent Nextwave, which were below a dollar about a week ago, were trading at $2.05 in midday action Aug. 2 on the Pink Sheets Exchange. The stock was delisted from the Nasdaq exchange July 23 after it failed to boost its price above the $1 minimum.
— Mike Allen