FINANCE: WAVE OF STEM CELL FUNDING TO REPLACE STIMULUS VOID
Research Grants Ebb and Flow to Region's Biotech Nonprofits
Monday, August 2, 2010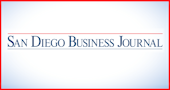 Nonprofit biotech research is a robust sector in San Diego, and grant recipients leading the way include a constellation of well-known names such as The Scripps Research Institute, UC San Diego, the Salk Institute for Biological Studies and San Diego State University.
And while times have been good for academics getting government grants for research, an upcoming falloff of federal grant funding — expected to tail off along with American Recovery and Reinvestment Act of 2009, or stimulus, funding — may cut back research programs and the demand for Ph.D.s in science.
"Everyone's facing this problem," said Douglas Bingham, chief operating officer at the Scripps Institute in La Jolla. "It's an industry with probably $10 billion put into its pipeline. When that's gone…"
Looking ahead, the grant-dependent bioscience research field is looking for a way to supplant the huge sums the federal stimulus package has provided.
Research grants from charity foundations aren't expected to fill the huge expected gap in federal funding.
"Philanthropy is down for all charities," says Bingham.
Healthy Resources
But for now at least, the grant funding is a healthy world for San Diego-based nonprofit research groups.
The California Institute for Regenerative Medicine was established in November 2004 with the passage of Proposition 71, the California Stem Cell Research and Cures Act. So far it has awarded more than $1 billion in grants to 364 research, training and facility grants statewide.
"Our mission is to push advances in stem cell research to the benefit of patients," said John Robson, CIRM's vice president of operations. "You can view it as a jobs program. It supports biotech at a time when it is very difficult to get money. And it attracts biotech researchers."
In San Diego, CIRM has awarded the Sanford Consortium for Regenerative Medicine $43 million to build a facility for members of the group — the Sanford-Burnham Medical Research Institute, the Salk Institute, The Scripps Research Institute and UCSD — to collaborate research efforts.
Being built next to the Salk Institute for Biological Studies, it is slated for opening by the end of next year, says Robson.
That facilities grant is part of $220 million in three- to four-year grants CIRM has made to nonprofit research groups in the state, says Robson.
Grants to Local Institutions
The latest round of stem cell transplantation and immunology grants CIRM announced in June for San Diego-area research includes:
• $1.5 million to the La Jolla Institute for Allergy & Immunology;
• $1.7 million to The Scripps Research Institute; and
• $1.1 million to combined research at UCSD and Scripps Research Institute.
In April, CIRM awarded two basic biology research grants to UCSD totaling $2.7 million.
For fiscal 2009 ended last Sept. 30, The Scripps Research Institute reported receipt of $333 million in research grants for basic biomedical research.
Scripps Institute COO Bingham says 85 percent of the research grants for Scripps come from the federal government via the National Institutes of Health in Bethesda, Md. Other grants come from the state, and philanthropy.
Total grant money to be received by Scripps this fiscal year is expected to increase by 10 percent. For fiscal 2011, it is expected to equal this year's share, and decline by an unknown amount in 2012.
Having that much research support from the federal government has a downside, says Bingham.
"We got a lot of (federal) stimulus money," said Bingham. "Over $70 million bridged over three fiscal years."
But once the stimulus money runs out, so does a lot of local research funding.
Scientific Researchers Proliferate
The bubble of federal research grants has had another effect, says Bingham. Universities have beefed up their numbers of Ph.D.s in the biological sciences. In 1998-99, around 11,000 Ph.D.s applied for NIH grants, says Bingham. Last year, that number had grown to 34,000.
Bingham fears a precipitous drop in demand for bioscience Ph.D.s, much the way engineers were put out of work by defense contractor layoffs in the late 1960s and early '70s.
Meanwhile, the research grant grass is still very green across town at SDSU. The university received $151.3 million in research grants for the just finished fiscal 2009-10. That is reportedly more than 15 times the average for a campus in the California State University system.
Tom Scott, vice president for research at SDSU, says there are about 300 faculty members with research grants, with the strongest areas in molecular science, life sciences and public health. He expects the fiscal 2010-11 grant total, also strongly boosted by multiyear federal stimulus funding, to stay about the same at around $150 million.
"Research has been accepted by the administration, faculty and students as being one of the central components of what San Diego State stands for," said Scott.
The university's research grants come primarily from the feds via the National Institutes of Health and the National Science Foundation, says Scott.
But because of the expected end of stimulus funding, there have been few faculty hires, he notes. And because of less funding available, he's seen fewer applications for research grants.
Competition has been mighty stiff when plenty of grant money is up for grabs, he says. For SDSU to get its $151 million in grants, for example, it took applications asking for $500 million in funding.
Mark Larson is a freelance writer for the San Diego Business Journal.