Local Scientists Take $12M in Round of CIRM Grants
Friday, April 30, 2010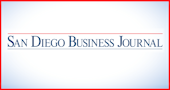 A governing board with the state's stem cell agency has committed $28 million to nine nonprofit biomedical institutions and one for-profit company with the goal of recruiting scientists and gaining a deeper understanding of stem cell biology.
Four local scientists picked up Basic Biology II Awards, which aim to answer fundamental questions about stem cell biology, worth about $1.5 million each.

Huei-sheng Chen, a researcher with the Sanford-Burnham Institute for Medical Research, will use $1.6 million for exploring how to improve the safety of current cell-based therapies in heart disease.
Other awards went to Ron Evans at the Salk Institute for Biological Studies ($1.7 million); Kun-Liang Guan with UC San Diego ($1.3 million); and Dong-Er Zhang also of UCSD ($1.4 million).
The Sanford-Burnham Institute for Medical Research received the lone leadership award, worth $5.9 million, that it will use for hiring and supporting the work of Duke University researcher Robert Wechsler-Reya. The young scientist has been studying the role of stem cells in the brain, and how cancer stem cells give rise to brain tumors. Under terms of the grant, Wechsler-Reya has until the end of June to finalize negotiations with the Sanford-Burnham.
Also picking up awards were UCLA, UCSF, Stanford University, UC Irvine, UC Davis and Palo Alto Institute for Research and Education Inc.
San Francisco-based for-profit iPierian Inc. garnered $1.5 million.
The $3 billion California Institute for Regenerative Medicine was established in November 2004 following the passage of Proposition 71, the California Stem Cell Research and Cures Act.
— Heather Chambers