Panelists Size Up Water Supply Through 2060
Tuesday, April 27, 2010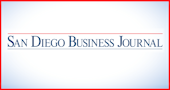 Since the state's formation in 1850, water has been one of the signature issues in California.
Today, three San Diegans are part of a panel looking at water use in Southern California during the next 50 years. They are Ruben Barrales, president and CEO of the San Diego Regional Chamber of Commerce; John Lormon, a partner with Procopio, Cory, Hargreaves & Savitch LLP; and Julie Meier Wright, president and CEO of the San Diego Regional Economic Development Corp.
They are among 20 Southern California leaders sitting on The Metropolitan Water District of Southern California's 2060 Blue Ribbon Committee. The committee plans to present its report on water supply and demand to the MWD board by the end of the summer.
Water supply affects business, real estate, politics and a host of environmental issues. Water is tied closely to energy and to the state's carbon footprint, Lormon said, since it takes a great deal of energy to pump water over mountains to the southern part of the state.
The plan for 2060 will consider alternative water sources, and must consider the conditions and technology that will evolve in the next half-century, said Lormon, who heads Procopio's Clean Tech, Energy and Climate Change Practice Group. It will take a level of creative thinking since, as the attorney pointed out, planners of 50 years ago could not have imagined the desalination plant Poseidon Resources plans to build in Carlsbad.
The Los Angeles-based Metropolitan Water District takes in 26 water agencies. The San Diego County Water Authority is Metropolitan's largest customer.
— Brad Graves