SMALL BUSINESS: EXCHANGES AND TAX CREDITS INCREASE PURCHASING POWER
Health Care Reform Holds Promise for Boosting Insurance Options
Monday, April 26, 2010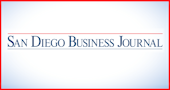 Whether or not the health care reform bill will bring drastic changes to San Diego County's small businesses, many of whom cite high insurance premiums as a barrier to providing health care coverage to their employees, remains to be seen.
Only one thing seems certain: Nothing is likely to change quickly, given that most of the provisions of the $940 billion legislation will not take effect until 2014.
Thus far, out of 73,000 small businesses in the county, which is 90 percent of all employers, only about half offer some type of benefits to their employees, said Ruben Garcia, district director for the U.S. Small Business Administration in San Diego.
According to The Henry J. Kaiser Family Foundation, less than half of businesses with three to nine workers nationwide offered health insurance in 2009. That figure climbed above 70 percent for companies with 10 to 24 employees and to nearly 90 percent for those with 24 to 49 workers.
"It's not that they don't want to offer health insurance and other benefits," Garcia said. "They can't afford it, because it's not feasible or cost-effective."
He noted that for many small-business owners with a handful of employees, health insurance premiums are about 18 percent to 20 percent higher than for larger firms that can buy into a health care insurance pool.
Paying More for Health Benefits
The Center for American Progress, a Washington, D.C.-based think tank, also reported on its Web site that small firms spent an average of 18 percent more than large firms to buy comparable health insurance for their workers. The center further reported that health insurance costs increased 113 percent from 1999 to 2007, which did not equal more or better health benefits. To provide benefits, employers may pass on the higher costs to workers in the form of lower wages.
A combination of tax credits, purchasing pools and penalties in the health care reform package, signed by President Barack Obama into law, seeks to boost insurance coverage and provide relief for small firms.
Under the bill, as modified by a package of changes passed March 25 by the U.S. House of Representatives and Senate, firms with 25 or fewer employees and average annual wages of less than $50,000 can get tax credits to help buy insurance. The credits reportedly will start this year, and in 2014 rise up to 50 percent for the smallest businesses with 10 or fewer workers.
Starting in 2014, small firms, the self-employed and the uninsured will also be able to choose a plan offered through new state-based purchasing pools called exchanges.
Garcia is hopeful that these exchanges, which allow small firms — those with no more than 100 employees — to pool together to buy insurance, will have a positive effect on small firms.
"The greater the number of employers, the larger the pool, which reduces the cost to buy insurance," Garcia said.
The idea behind creating exchanges is to offer some of the same kind of purchasing power that employees of big companies benefit from.
Firms Offer Attractive Packages
Michelle Wong, principal and enterprise practice leader at the local office of Mercer LLC, a global consultant and leader in benefit outsourcing, said the 2009 Mercer national survey of employer-sponsored health plans confirmed that larger firms compared to small firms typically can offer employees more health care benefits at lower deductibles and lower prescription drug co-payments.
The survey of 2,914 employer participants nationwide, including small, mid-sized and very large firms, gave specific figures for Southern California.
Southern California firms, with 500 or fewer employees, reported spending less to buy health insurance, an average of $7,904 per employee a year, compared to firms with 500 or more employees, which spent an average of $9,651 a year per employee.
"Hopefully, with the health care reform, we will create a situation where small-business employers will buy into a pool, which would lower the cost," Garcia said.
But he worries that many small firms will simply opt out.
Under the legislation, firms with 50 or fewer employees won't face any penalties if they don't offer insurance. Businesses with more than 50 employees that don't offer affordable coverage in 2014 will pay a penalty, starting at $750 a year per full-time employee.
Organizations with more than 200 workers would be required to enroll them automatically into health insurance plans, although employees can choose to opt out.
"It's a catch-22, because for this to happen, small businesses will have to participate, and there is no mandate for employers under 50 employees to do so," Garcia said.
Incentives to Provide Coverage
It's too early to predict which way small businesses will go.
But if the Mercer survey has any bearing on future choices made by small firms, those with 50 or more employees may increase health care coverage.
According to Wong, the survey showed that, "Half of the employers that don't offer health coverage today — mostly small businesses — would rather offer benefits than pay penalties, if the tax subsidies lowered the costs enough." She added, "Many small businesses will wait for possible increases in insurance premiums coming from enriched benefits and insurance pricing rules. Decisions on setting contributions and even offering coverage will vary depending on where an employer is today — 'Do they offer benefits? What do they charge employees? What salaries do they pay?' — and the basket of subsidies, mandates, fees and administration bundled in reform."
David Lindsey, a health care broker who owns the David Lindsey Agency in Rancho Penasquitos, and serves about 175 small firms in San Diego County, however, remains skeptical.
"As far as the impact on costs for small businesses is concerned, I believe that premiums will continue to go up," Lindsey said. He described the health care overhaul as "well-intentioned, but not well-thought-out."
In his view, the bill fails to address critical areas in the health care system that would cut wasteful spending: Among them are Medicare fraud, which he said reached $100 billion in 2009, and medical liability tort reform, which leads doctors to practice "defensive medicine," rather than best medical practice.
Wong finds that working with a broker is often a good strategy for small-business owners.
"Typically, small businesses aren't large enough to have their own human resources department, and therefore use an independent broker," Wong said.
She added that brokers can provide small firms with more options and have a broader view of the marketplace.
Lindsey agreed, saying that he often can find insurance options that employers wouldn't find on their own.
"I work with the employer to find the best option and provide quality benefits at favorable cost strategies," Lindsey said.
In his experience, more small firms in the county offer medical insurance than not, but he did say that some industries are more likely to buy health insurance for their workers than others.
"Restaurants are hard, because they have a high turnover rate and because of the hours their employees are working," Lindsey said.
White collar employers, including lawyers and doctors, tend to provide a full health care plan.
Marion Webb is a freelance writer for the San Diego Business Journal.