TRADE: LESS THAN 1 PERCENT OF NATION'S 30 MILLION COMPANIES EXPORT TO FOREIGN MARKETS
Commerce Secretary Pushes Exporting to Grow U.S. Employment
Monday, April 19, 2010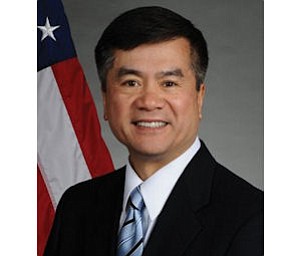 U.S. Commerce Secretary Gary Locke couldn't have picked a better local venue to extol the benefits of exporting as a key strategy to returning the economy to health.
In his hour and a half visit to the Solar Turbines Inc. plant in Kearny Mesa on April 14, Locke said a huge part of the company's success is derived from selling its industrial gas turbines around the world.
In fact, more than 70 percent of Solar's $3.5 billion in annual revenue comes from exports, said Steve Gosselin, Solar Turbines' president.
"Increasing exports must be a central part of America's economic recovery and job creation efforts," Locke said.
To that end, Locke said the Obama administration's national export initiative aims to double the nation's exports during the next five years, a goal that could create some 2 million new jobs.
The prescription for expanding revenues and creating new jobs is pretty simple, Locke said. "The more companies, export, the more (goods) they make. The more they make, the more workers they will hire."
While Solar Turbines, a division of Dow Industrial 30 member Caterpillar, is clearly in a league of few players selling its products in about 96 countries, Locke said more smaller and medium-sized U.S. companies should broaden their international sales efforts.
Of the nation's 30 million companies, less than 1 percent sell their goods or services outside the country. And of those that do, 58 percent export to a single foreign country, Locke said.
Free Services to Grow Exports
To improve those numbers, Locke said his agency has embarked on an aggressive three-pronged strategy: expanding advocacy and education on what the U.S. Department of Commerce can offer small and medium-sized businesses looking to export; improving access to credit to those same exporting firms; and ensuring that companies who are competing in foreign markets have fair access to those markets, and that trade pacts are fairly enforced.
The Commerce Department provides a number of free services aimed at helping companies expand sales into new markets, including one called the Gold Key program that Locke highlighted, which brings together U.S. firms and foreign distributors or potential customers.
The agency's trade representatives can help set up meetings with screened potential partners in the selected country, allowing the domestic firm to find the right partner. "We'll set up the meetings for you one after the other. It's like speed dating," he said.
Another element of the initiative is expanding the credit advancement capability of the Export-Import Bank of the United States from $4 billion to $6 billion.
In a question and answer session with about 150 invited business San Diegans following his speech, Locke addressed a number of exporting issues, including revising regulations covering certain products that are more rigorously controlled because of defense security implications.
Daniel Chang, president of San Diego-based AEM Inc., a maker of electronic fuses, told Locke that changes the country put into effect in 1999 made if far more difficult to sell his firm's products to the makers of satellites in other countries.
U.S. Regulations Undercut Exports
Before the changes, AEM was doing about $12 million in sales, and had about 150 employees. As the stricter regulations took effect, his firm lost market share to competitors in Taiwan, China, and several European nations that also make fuses used in communications satellites. Last year, AEM's employment dropped to 80 workers and revenue was about $7 million, Chang said.
Jeff Montgomery, AEM's vice president of operations, said the regulations have damaged the business because competing fuse makers do not have to obtain special licenses before purchasing AEM's fuses. "This almost cut our European business in half," he said. In fact, the European Space Agency now mandates that its subcontractors purchase components that aren't included on the more regulated U.S. list created by the new rules, he said.
While the licensing time has been shortened in recent years, the type of components AEM makes shouldn't be regulated in the same way as weapons, Montgomery said.
Earlier that same day, Locke met with economic ministers from Canada and Mexico to discuss issues related to the North American Free Trade Agreement, the trilateral pact that has resulted in a 135 percent increase of U.S. exports to Canada and Mexico since it took effect, according to the Commerce Department.
The ministers all spoke at a conference held at the University of San Diego addressing competitiveness, innovation and clean energy. The conference included panel discussions on energy security, the new work force, a low-carbon economy, supply chain integration, and infrastructure developments.