HEALTH CARE: UNIVERSITY MAKES WAVES AS IT STRIVES TO ADVANCE MEDICAL INNOVATION LOCALLY
Hospital Execs Spar Over Expanded UCSD Medical Center
Monday, April 12, 2010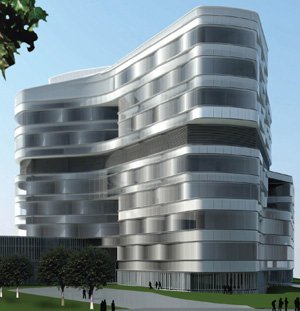 UC San Diego's plans to establish a specialty hospital in La Jolla, by transferring certain services from its Hillcrest location, were met with criticism from competing hospital districts last week. UCSD says the planned hospital, funded in part by the largest single gift in the history of the university's Health Sciences Department, will bring cutting-edge research to La Jolla as the only academic medical center in the area.
Executives affiliated with nearby Sharp HealthCare and Scripps Health hospitals, though, said they will bear the brunt of UCSD's decision to move services out of Hillcrest and further from the South Bay, home to the majority of the county's poor and uninsured.
UCSD's plan appeared to revive earlier criticism that its medical center would increase access to middle-class and wealthier patients in lieu of providing care to the uninsured and those covered under Medi-Cal, Medicare and county indigent programs.
In 2005, the university unveiled a plan to transfer inpatient beds and services from its Hillcrest hospital to La Jolla, but it eventually backed down from the plan after the San Diego County Board of Supervisors and others said it would disrupt care provided to the central and South Bay communities.
Scripps Health CEO Chris Van Gorder said he fears UCSD Medical will eventually close its Hillcrest campus, despite past promises to leave 250 beds at Hillcrest in place through 2030, leaving the majority of care in the South Bay to fall on Scripps Mercy's Chula Vista hospital.
That could create a domino effect, he said, possibly leading to the closure of certain services at its Chula Vista hospital.
A long-range strategy calls for moving most acute-care services from UCSD's Hillcrest site to Thornton Hospital, a move many expect to send more trauma and emergency room patients to nearby Scripps Mercy in Hillcrest.
"If, in the end, UCSD cannot maintain their trauma, then we can't afford to take that additional burden on," Van Gorder said.
UC Hospital Running at Capacity
UCSD officials announced plans for the new 245-bed hospital April 1, saying it would enhance research and draw top-notch physicians. The hospital will have 108 general beds, 36 intensive care unit beds, 52 neonatal intensive care bassinets and 49 labor and delivery and maternal care beds. It will also include 12 operating rooms and eight labor and delivery rooms.
The Jacobs Medical Center, named for a $75 million gift from Qualcomm Inc. co-founder Irwin Jacobs and his wife, Joan, will focus on three areas: maternity and infant care, cancer treatment, and advanced surgery.
Funded by a combination of existing revenue, philanthropy and bond money, the new hospital will cost $529 million. Altogether, the project's price tag is $664 million, which includes 63,800 square feet of renovations at Thornton.
Pending approval by a state regulatory agency, the project would be completed by 2016.
UCSD currently offers the services planned for La Jolla at its Hillcrest site, alongside other specialties such as cardiac care and pediatric burn treatment.
But executives with Sharp and Scripps said the services planned for La Jolla would duplicate their own offerings at four nearby hospitals.
"Really we aren't seeing that new services are being introduced by UCSD," said Dan Gross, executive vice president of Sharp HealthCare. "It's a decision to basically try and capture a new region market share."
UCSD Medical Center CEO Tom Jackiewicz points to increased demand for patient care in the North County. UCSD Medical's 119-bed Thornton Hospital is typically at capacity, he said, and sometimes demand outpaces the number of beds it has available.
Altogether, UCSD will need to accommodate an additional 7,000 patient discharges during the next 10 years, he said, due to population growth and shifting demographics. He said he expects that number to grow as health care reform legislation takes effect and more newly insured enter the health care system.
Shift Towards Specialty Care
Mike Williams, president of The Abaris Group, said the shift to specialty services often comes at the expense of primary care. A 2006 study by the Walnut Creek-based health care consultant, commissioned by San Diego County's Health and Human Services Agency, found that cardiac care services, for example, were being repeated throughout the county.
"The shift toward specialty care and gap toward need versus actual capacity has widened since we even finished this study," Williams said.
But Jackiewicz said that an academic medical center offers something others don't — the ability to drive cutting-edge research and adopt new medical techniques.
"We can really be at the forefront of innovation here in San Diego," he said.
In September, UCSD broadened an alliance with pediatric specialists at Rady Children's Hospital that brought 120 physicians onto the UCSD clinical faculty.

One of the major changes involved the establishment of a UCSD clinical grants management office at Rady. Rady physicians who affiliated as UCSD faculty under the arrangement began submitting grant applications through UCSD. Industry-sponsored clinical trials also started flowing through UCSD.
Meanwhile, Jackiewicz said UCSD maintains a commitment to its 386-bed Hillcrest hospital. The facility will maintain its level one trauma center, burn treatment center and emergency care services through 2030, he said. Most of its rooms will be converted into private, single-patient rooms, which will decrease its bed count to between 275 and 300.
UCSD purchased the hospital building from the county in 1981 for $17 million. It agreed to improve the building's seismic safety at the time, and completed a three-year, $40 million construction project that brought its patient tower in line with earthquake safety standards in 1992.
But it still must meet a 2013 deadline for improving structures to comply with new safety standards. Jackiewicz said he doesn't anticipate the hospital will need to file for an extension.