CareFusion Makes Biotech Acquisition
Monday, April 12, 2010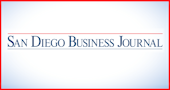 San Diego-based medical device company CareFusion Corp. has made its first big acquisition since spinning off Cardinal Health in September.
The company said April 5 that it is buying Medegen Inc., a maker of disposable intravenous medication delivery systems, for $225 million in cash. CareFusion said the systems made by Ontario-based Medegen, which help reduce blood infections associated with intravenous therapies, fit well in its portfolio of infusion products.
"With a global opportunity of more than $2 billion for disposable IV sets, Medegen will expand our clinically differentiated product line and add a new dimension to our existing infection prevention portfolio," CareFusion CEO David Schlotterbeck said in a release.
The acquisition is expected to close by June 30.